Rush hour carnage as Somali truck bomb kills at least 79
Comments
By Euronews with AP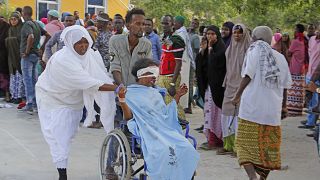 Copyright

(AP Photo/Farah Abdi Warsame) - Farah Abdi Warsameh

-
A truck bomb exploded at a busy security checkpoint in Somalia's capital Saturday morning, killing at least 79 people.
Many of those killed were students, authorities said. It was one of the deadliest attacks in Mogadishu.
Abdiqadir Abdirahman, the director of the Aamin Ambulance service, said that at least 125 were wounded. Children were among those wounded.
The blast occurred during the morning rush hour as Somalis returned to work after their weekend.
"This dark day has robbed our nation of dozens of innocent lives, the perpetrators of this heinous act of terror will never dim the spirits of the people of Somalia," tweeted Somali president Mohamed Abdullahi Mohamed.
"Let's join hands in countering this evil in our midst. Let's move fast and help out the survivors."
Photos from the scene showed the mangled frames of vehicles. A large black plume of smoke rose above the capital.
There was no immediate claim of responsibility for the blast. The al-Qaida-linked al-Shabab often carries out such attacks.
The extremist group was pushed out of Mogadishu several years ago but continues to target high-profile areas such as checkpoints and hotels in the seaside city.
The attack again raises concern about the readiness of Somali forces to take over responsibility for the Horn of Africa country's security in the coming months from an African Union force.
Al-Shabab, the target of a growing number of U.S. airstrikes since President Donald Trump took office, controls parts of Somalia's southern and central regions. It funds itself with a ``taxation'' system that experts describe as extortion of businesses and travellers that brings in millions of dollars a year.