UK Liberal Democrats to elect new leader in new year after Jo Swinson loses seat
Comments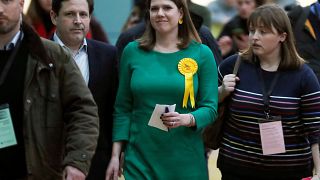 -
Copyright

REUTERS/Gonzalo Fuentes
Britain's Liberal Democrats will hold a leadership contest in the new year after leader Jo Swinson lost her seat on Friday in a bruising General Election night for the party.
Swinson had only been leading the centrist party since July following the resignation of former leader Vince Cable, but lost her seat as representative for East Dunbartonshire, north of Glasgow, to the Scottish National party' Amy Callaghan by just 149 votes.
Lib Dem President, Baroness Sal Brinton said in a statement that "in the weeks ahead we will elect a new leader and our party will continue to be the rallying point for anyone who believes in a country where everyone has the chance to get on in life."
She also thanked Swinson for "her honest and fearless leadership" and flagged that "in this election, we gained more votes than in 2017 and we have been joined by many new MPs."
Brinton and MP Ed Davey will be joint acting leaders in the meantime.
The Liberal Democrats are projected to win just 11 seats in the 650-strong Parliament, down one from what they secured in the 2017 general elections, and 10 from when the election was announced. The party had welcomed a string of defectors over the past few months.
Swinson stood by her campaign strategy, saying in a statement that the "Liberal Democrats have stood up for openness, generosity and hope" but recognised that "this is clearly a setback for liberal values."
Chuka Umunna — who joined the Lib Dems earlier this year after defecting from Labour and the Change UK party — lost his seat but said: "we almost trebled our share of the vote".
He added that serving his constituency for the past decade had been "the privilege of my life" and that he will continue to support the party from outside the House of Commons.
"For the liberal, internationalist, pro-European, progressive, centre-ground of British politics, the Liberal Democrats still have a vital role to play, despite the disappointing results of this general election. We will live to fight another day and learn from what has happened these last few months," he wrote on Facebook.