Priceless diamonds, rubies and emeralds seized in massive German museum heist
Comments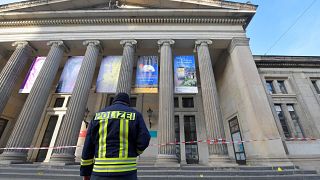 Thieves have carried out a heist at a museum in Germany in what could be the largest museum theft in post-Second World War history.
Jewels and other treasures worth up to a billion euros from Dresden's Gruenes Gewoelbe - or Green Vault museum - were seized, according to Germany's Bild newspaper.
"Priceless" diamonds were stolen, according to police, who said at a press conference two people are wanted in connection with the burglary, but so far no arrests had been made.
Police did not rule out the possibility of other suspects being involved.
Security camera footage showed the perpetrators entering through a window, shattering the glass of a display case and taking the contents, before going back out the window and fleeing.
The thieves stole three "priceless" ensembles of early 18th-century jewellery in diamond, ruby and emerald, Dresden police and museum officials said.
Two fires in the city centre may also be associated with the escape, police said.
Investigators have sealed off the museum, which houses one of Europe's largest collections of jewellery.
The museum confirmed the burglary, which was at the historic part the collection in the Grünes Gewölbe.
The collection was founded in the 18th century by August the Strong, Elector of Saxony and later King of Poland.
The thieves couldn't get hold of its best known treasure - the 41-carat Dresden "Green Diamond" - which is currently on loan to New York's Metropolitan Museum of Art.
Museum director Marion Ackermann said it would be impossible to sell the stolen works on the open market.
"We are talking here of objects of immeasurable cultural value," said her colleague Dirk Syndram. "It's almost world cultural heritage. There is nowhere else a collection of jewellery in this form, quality and quantity."
Michael Kretschmer, the head of Saxony, said: "The works in the Green Vault and the Palace were built up by the people of Saxony with many centuries of hard work," adding the theft was a blow for the whole state.