Watch: Erdogan visits Trump after US-Turkey diplomatic tension
Comments
By Euronews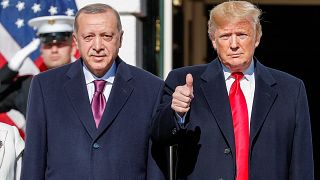 Copyright

REUTERS/Tom Brenner
US President Donald Trump has met with his Turkish counterpart Recep Tayyip Erdogan after diplomatic tensions between the two countries in recent weeks.
President Trump said he had a "wonderful and very productive meeting" at the White House with Erdogan and that the two had "been friends for a long time, almost from day one." 
On the agenda were issues concerning defence, the economy and Syrian refugees. 
Trump said he hoped the two countries would be able to resolve their differences over Ankara's purchase of the Russian S-400 missile systems - which would allow them to "achieve progress on other fronts."
The U.S. president went on to state that Europe must pay more to cover the costs related to refugees from Syria
"I think that frankly, Europe should be paying for this to a large extent. As of this moment Turkey's been paying for most of it," Trump said.
Trump and Erdogan's joint news conference follows a period of diplomatic tension between the US and Turkish presidents, which has negatively impacted Turkey's economy. Now Trump wants to boost trade with Turkey and says he intends to  expand trade with Turkey from $20 billion to as much as $100 billion.
In October, Trump sent a letter to Erdogan before the latter launched a military incursion into north-east Syria, urging him "don't be a tough guy" and "don't be a fool!"
Later in October, Turkey and the US agreed to a truce in Syria, and the US later lifted sanctions on Turkey as Ankara agreed to make the ceasefire with Kurdish-led forces along the border with Syria "permanent."
READ MORE: Behind Trump-Erdogan 'bromance,' a White House meeting to repair U.S.-Turkey ties