Boris Johnson sends unsigned letter to the EU requesting a Brexit delay
Comments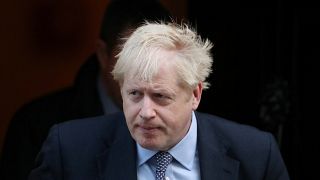 Copyright

REUTERS/Simon Dawson
British Prime Minister Boris Johnson sent an unsigned letter to the European Union on Saturday requesting a Brexit extension and a separate and signed letter arguing against one.
Johnson was required by law to ask for a Brexit delay until the end of January in the event that Parliament did not vote on a withdrawal agreement by October 19. There had been much speculation as to whether or not Johnson would follow the law which he has called a "surrender act".
But Downing Street published three letters that were sent to the EU on Saturday including a cover letter from the UK's EU representative stating that the unsigned letter had been sent to comply with the law.
Johnson's signed letter to EU Council President Donald Tusk and other EU leaders argued against granting the UK a Brexit delay, stating that while it was the EU's prerogative to accede to the request or not, "a further extension would damage the interests of the UK and our EU partners."
"We must bring this process to a conclusion so that we can move to the next phase and build our new relationship on the foundations of our long history as neighbours and friends in this continent our people's share," Johnson's letter continued.
Shadow chancellor and Labour MP John McDonnell said on Sunday that Johnson was trying to "undermine" Parliament and that he was acting like a "spoiled brat" by sending a second letter contradicting the first. McDonnell said a second referendum could be considered as an amendment next week.
Johnson had hoped to pass the deal he struck up with European Union leaders earlier in the week through the House of Commons in an extraordinary session on Saturday, but lawmakers foiled his plan when they voted 322 to 306 in favour of an amendment delaying Brexit until the withdrawal agreement legislation is passed.
The amendment -- brought by former Conservative MP Sir Oliver Letwin who was one of the rebel MPs who supported an extension in September -- is designed to further prevent a no-deal crash out of the European Union. Former home secretary Amber Rudd described the amendment as an "insurance policy" against the UK crashing out of the EU without a deal.
Johnson was defiant in his response to Parliament after the amendment passed, stating: "I will not negotiate a delay with the EU and neither does the law compel me to do so."
Johnson has repeatedly declared he will take the country out of the EU by October 31 and "get Brexit done" and in his letter to the EU, he said he remained "confident" that they would ratify the withdrawal agreement by October 31.
European Council President Donald Tusk said he had spoken to Johnson about the vote in the House of Commons and acknowledged that the extension request had arrived. Tusk said he would consult with other EU leaders on how to react.