Protesters clash with police in third day of Catalan pro-independence demonstrations
Comments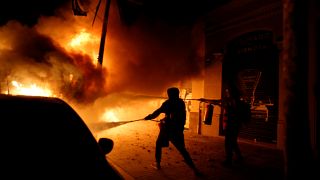 Copyright

REUTERS/Rafael Marchante
In the third day of protests on Wednesday, Catalan pro-independence demonstrators clashed with riot police in the centre of Barcelona. 
Spanish authorities say that 80 people, 46 of which policemen, were injured during the night. 33 protesters have also been arrested, the office of Spain's caretaker prime minister stated. Prime Minister Pedro Sánchez himself is meeting with experts from the Interior Ministry and other cabinets to analyze the situation.
Thursday, the fourth day of protest, began with new road blockades in the North-East of Spain, with demonstrators occupying a highway leading to France among others. 
The demonstrations were sparked over Monday's imprisonment of nine leaders of a failed secession bid.
Read more: Catalan separatist leaders given 9 to 13 years in prison for sedition over 2017 independence bid
Spain's Supreme Court sentenced nine Catalan separatist leaders to between 9 and 13 years in prison for sedition in their role in the region's 2017 failed bid for independence.
The former head of Catalonia's regional government Carles Puigdemont classified the prison sentences as an "atrocity". "It is time to react ... for the future of our sons and daughters. For democracy. For Europe. For Catalonia," Puigdemont said on Twitter.
A witness told Reuters that police charged and fired foam bullets at protesters who set fire to bins and cars in the area near the interior department of the regional government in Barcelona. Demonstrators also set fire to containers blocking several streets in the city.