Rockets owner distances team from GM's support for Hong Kong protests
Comments
By Max Burman with NBC News World News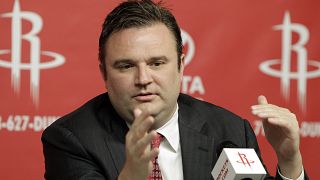 Houston Rockets owner Tilman Fertitta sought to distance the team late Friday from General Manager Daryl Morey's apparent support for ongoing protests in Hong Kong.
Morey "does NOT speak for" the team, Fertitta said on Twitter.
He was responding to a now-deleted post by Morey which contained an image that read: "Fight For Freedom. Stand With Hong Kong."
The post prompted a backlash from some users unhappy with Morey's foray into global affairs.
China has repeatedly denounced foreign intervention on Hong Kong.
The semi-autonomous territory has seen months of protests descend into increasing violence as demonstrators express their frustration with the government and opposition to what they see as Beijing's growing influence.
Chief Executive Carrie Lam invoked emergency powers Friday and banned the use of face masks in an effort to quell the growing unrest.
The Rockets are in Japan for a preseason game next week with the NBA champion Toronto Raptors.
The franchise boasts a sizable fanbase in China that dates back decades. Hall of fame center Yao Ming, perhaps China's greatest ever player, starred for the team from 2002 to 2011.
Fertitta reportedly told ESPN Saturday that despite the controversy he has no issues with Morey.
"I have the best general manager in the league," Fertitta said. "Everything is fine with Daryl and me. We got a huge backlash, and I wanted to make clear that [the organization] has no [political] position. We're here to play basketball and not to offend anybody."