Michael Avenatti wants Stormy Daniels' money from Ohio strip club settlement
Comments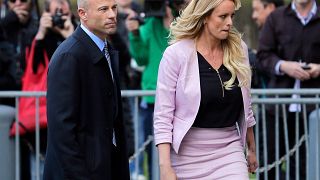 Copyright

Seth Wenig AP file

-
Attorney Michael Avenatti has filed court papers demanding the $450,000 settlement won by former client Stormy Danielsin her lawsuit against the Columbus, Ohio, police department.
Avenatti, who represented the adult film actress in legal action against Donald Trump, filed a lien claim in an Ohio federal court Wednesday that says Daniels owes him more than $2,000,000 for legal services, costs and expenses.
In September, Daniels settled her lawsuitover her arrest last year at a Columbus strip club. Police arrested Daniels on July 11, 2018, at the Sirens Gentlemen's Club on misdemeanor charges of inappropriately touching customers. The charges were quickly dropped.
In return for $450,000, Daniels agreed to drop all claims made in her federal civil complaint against the city, according to her attorney, Chase Mallory, and a spokeswoman for Columbus City Attorney Zach Klein.
Avenatti filed a lawsuit on behalf of Daniels in March 2018, whose real name is Stephanie Clifford, to invalidate a 2016 non-disclosure agreement regarding an alleged 2006 affair with Donald Trump. Trump has denied having an affair with Daniels, but his former lawyer Michael Cohen pleaded guilty to a campaign violation for arranging hush money payments during the closing days of the 2016 presidential race.
Avenatti also represented Daniels in a defamation suit against Trump. The suit was dismissed and Daniels was ordered to pay Trump's legal fees. Daniels later said Avenatti had initiated the suit against her wishes.
In March 2019, federal prosecutors in New York charged Avenatti with extortion for allegedly attempting to obtain $25 million from Nike founder Phil Knight, and federal prosecutors in California charged Avenatti with wire fraud and bank fraud and alleged he had embezzled from a client.
Daniels and Avenatti ended their professional relationship earlier this year.
In his lien filing, Avenatti said, "Despite repeated demands that Ms. Daniels fulfill her contractual obligations and pay for the millions of dollars in legal fees and costs she has enjoyed for her benefit over the last approximate 19 months, including in this case, she has refused."
Daniel's attorney Mallory did not immediately respond to request for comment.