Giuliani says State Dept vowed to investigate after he gave Ukraine docs to Pompeo
Comments
By Leigh Ann Caldwell and Kristen Welker and Heidi Przybyla and Josh Lederman and Abigail Williams and Julie Tsirkin with NBC News Politics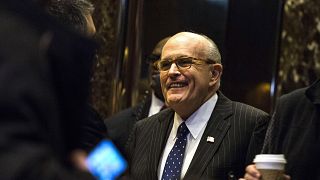 Copyright

John Taggart Bloomberg via Getty Images

-
WASHINGTON — Rudy Giuliani, the personal attorney for President Donald Trump, said Wednesday that he personally gave Secretary of State Mike Pompeo a file of documents with unproven allegations against former Vice President Joe Biden and was told that the State Department would take up an investigation of those claims.
Some of those documents are contained in the 79-page packet that the State Department's inspector general handed over to Congress Wednesday, which were obtained by NBC News. The documents, combined with Giuliani's version of events, raise new questions about what was done with the files after they were delivered to the State Department and whether an investigation into the allegations contained in them was ever launched.
Also included in the packet are nearly 20 pages of communications between State Department employees working to push back against the "fake narrative" that Giuliani was pushing.
Democrats and their staff members who received the briefing by the inspector general on Wednesday dismissed the documents as "propaganda."
"It is a packet of propaganda and disinformation spreading conspiracy theories. Those conspiracy theories have been widely debunked and discredited," Rep. Jamie Raskin, D-Md., said after leaving the briefing. "The whole thing looks rather amateurish to me. It looks like a collection of some newspaper articles that appear to have been coordinated, some emails and then basically a lot of conspiracy theories."
The packet is largely the work of Giuliani, which he used to bolster unproven allegations that Biden pressured Ukraine in order to protect his son, Hunter Biden, who has been involved with a business interest there, and that the Obama administration was using Ukraine to help Hillary Clinton win the 2016 election. The documents were handed over to Congress on Wednesday by the State Department's inspector general.
Giuliani told NBC News that he handed the documents "directly to the Secretary of State," Mike Pompeo, on March, 28, 2019.
In a statement, a State Department spokesperson said: "We understand that the Department's Inspector General has provided relevant Congressional Committees materials relating to Ukraine. The State Department can confirm that these materials were provided by the Department to the Inspector General on May 3, 2019 for his review and for such action as the Inspector General deemed appropriate. We refer any further questions relating to these materials to the Inspector General."
State Department Inspector General Steve Linick wrote to Congress that he obtained the packet in May from the State Department's acting legal adviser, Richard Visek. Linick held a briefing for relevant members on Congress and staff on the documents Wednesday.
The documents appeared in Trump Hotel folders and included "interview" notes Giuliani and his team conducted with Viktor Shokin, the former General Prosecutor of Ukraine who was pushed out at the urging of Biden because he didn't prosecute corruption.
Also included are notes of an in-person interview with Yuriy Lutsenko, the recently fired prosecutor general of Ukraine with whom Giuliani was corresponding. The five pages of interview notes paint the picture of the narrative that Giuliani has been pushing involving the Bidens.
And they include timelines attempting to make connections between Biden's conversations with Ukrainian officials and his son Hunter's work with Burisma as well as a glimpse of an intricate media strategy to spread the story including segments being placed on Fox News.
Linick wrote that he handed over the documents because it is "consistent with his obligations" as the inspector general to hand over to Congress any information he has.
The documents also show that Giuliani, through conservative writer John Solomon's columns in The Hill, attempted to tie former ambassador to Ukraine Marie Yovanovitch to the liberal donor George Soros as part of a massive conspiracy to take down Trump's former campaign manager Paul Manafort and help Hillary Clinton win the 2016 election.
When State Department officials saw the disinformation campaign, they attempted to ring alarm bells and strategized to correct the record, the documents show.
An email from the acting assistant secretary for European and Eurasian affairs, Phil Reeker, to State Department counselor Ulrich Brechbuhl, a high ranking official and close Pompeo ally, on March 31, 2019, forwarded an accounting of articles by then chargé d'affaires for the U.S. mission to Ukraine, George Kent, including the "basic fake narrative" that then Yovanovitch is a Democratic agent.
It's unclear what Brechbuhl did with the officials' concerns.
An internal State Department email from Deputy Assistant Secretary George Kent attempted to rebut another false narrative by saying a just-published "no-prosecute" list allegedly given by Yovanovitch to Lutsenko is "totally manufactured/fake." He points out most of the names are misspelled and the U.S. never dealt with some people on the list. He says the list appears to be Lutsenko's effort to inoculate himself by claiming the U.S. told him not to prosecute.
"Complete poppycock," Kent wrote.