Boris Johnson sets out plan reworking backstop
Comments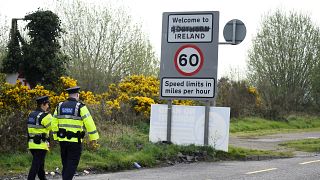 British Prime Minister Boris Johnson released details of his proposals for replacing the so-called Irish backstop with measures the government said would avoid the need for checks or physical infrastructure on the Irish border.
The new proposal offers a temporary all-island regulatory zone under which Northern Ireland would follow EU rules for goods.
But Northern Ireland would leave the EU customs union so there would have to be new customs checks between North and South.
To avoid physical border infrastructure, the checks would take place electronically or at other points on the supply chain.
Northern Ireland's parliament at Stormont would have to agree on the terms in a vote, to be reconfirmed every four years.
The UK government is also promising a slew of spending commitments in a "New Deal for Northern Ireland."
The Northern Irish political party that supports Johnson in Britain's parliament, the Democratic Unionist Party (DUP), gave its backing to the plans.
Johnson called on European Commission President Jean-Claude Juncker to accept the revised proposals, saying: "Our predecessors have tackled harder problems: we can surely solve this one."
Watch the Good Morning Europe report in the video player above.
READ MORE: Brexit Guide: Where are we now?
Early European reaction to the plan
Juncker spoke to Johnson by phone, his spokesperson said, and told the PM that the text would be examined "objectively."
"However, the President also noted that there are still some problematic points that will need further work in the coming days, notably with regards to the governance of the backstop," she said.
The spokesperson added: "The EU wants a deal. We remain united and ready to work 24/7 to make this happen – as we have been for over three years now."
Negotiation teams will meet in Brussels in the coming days.
Johnson also spoke on Wednesday afternoon to Angela Merkel and Irish Taoiseach, Leo Varadkar. The latter said that proposals "do not fully meet the objectives of the backstop."
Brexit negotiator Michel Barnier said Wednesday's proposals marked "progress" but lots of work was still needed for a new Brexit deal to be agreed.
"There is progress, but to be frank lots of work still needs to be done to fulfil the three objectives of the backstop: no border, all-Ireland economy and protecting the single market," he told reporters.
"We will continue to work, work to reach a deal. No-deal will never be the choice of the EU, never. We will continue to work with the UK team ... but a deal that respects and fulfils the three commitments."
Final offer
Johnson said Wednesday's proposals would be his final offer to the European Union for an amended Brexit deal, warning that if the proposals are not accepted Britain will leave the bloc at the end of the month without a divorce deal.
However, Brexit Party leader Nigel Farage said it was too close to the Withdrawal Agreement that had already been rejected by the House of Commons three times.
"It's like putting your head in a crocodile's and hoping for the best," he said.
In a letter introducing the new proposals, Johnson said there was "very little time" and described the plans as a "broad landing zone" for discussion.
"This Government wants to get a deal, as I am sure we all do," he wrote. "Our predecessors have tackled harder problems: we can surely solve this one."
He went on: "Both sides now need to consider whether there is sufficient willingness to compromise and move beyond existing positions to get us to an agreement in time. We are ready to do that, and this letter sets out what I regard as a reasonable compromise: the broad landing zone in which I believe a deal can begin to take shape."