September 11 terrorist attacks: US marks 18 years since 9/11 carnage
Comments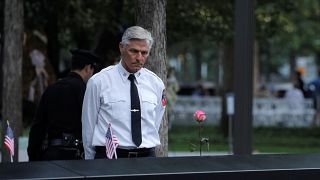 Copyright

REUTERS/Brendan Mcdermid

-
In Washington, US President Donald Trump observed a moment of silence and in New York, family members read the names of the nearly 3,000 men, women, and children who were killed in the terrorist attacks of September 11th, 2001 as part of an annual ceremony to commemorate the victims.
This year marks the 18th anniversary of the coordinated terrorist attacks.
Watch as US President Donald Trump observes a moment of silence on 9/11 in the video player above.
Across the world, people remembered the specific events that occurred that day after 19 men affiliated with terrorist organisation al-Qaeda hijacked four commercial aircraft.
The hijacked planes crashed into the North and South towers of the World Trade Center in New York and the Pentagon in Washington DC.
United Flight 93 crashed in Pennsylvania after the passengers learned of the other events and attempted to seize control of the plane from the hijackers.
The events in New York took place at the 9/11 Memorial & Museum where two reflecting pools are inscribed with the names of those killed in both the 9/11 attacks and 1993 the truck bombing of the buildings.
The pools stand where the former Twin Towers once stood.
During the ceremony, one mourner attacked US representative Ilhan Omar whose controversial comments at a Council on American-Islamic Relations event in March drew criticism.
The mourner, who lost his mother in the attacks, also mentioned other newly elected Democratic congresswoman and echoed Trump in his comments.
In Washington, members of the US Congress stood together on the steps of the U.S. Capitol building to observe a moment of silence and sang together.
Earlier this year, 9/11 first responders appeared in front of Congress with comedian Jon Stewart who called out lawmakers for the lack of funding for victims' compensation.
In July, Trump signed legislation that will ensure the fund never runs out of money.
There are over 13,000 members of the World Trade Center Health Program that were diagnosed with cancer that was related to the attacks, according to the US Centers for Disease Control.
Watch back the NYC ceremony and the reading of the names in the video player below.
Photos from a day of commemoration