Trump signs bill ensuring 9/11 victims fund will never run out of money
Comments
By Adam Edelman with NBC News Politics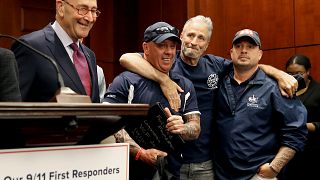 Copyright

Mark Wilson Getty Images

-
President Donald Trump on Monday signed a bill ensuring that a fund to compensate victims of the Sept. 11, 2001, terror attacks never runs out of money.
"Today we come together as one nation to support our Sept. 11 heroes and to care for their families … and to renew our eternal vow, never ever forget," Trump said before signing the bill.
"The whole world witnessed the might and resilience of our men and women in the New York fire department and New York police department," the president said, adding, "They answered terror with the emotional strength of true American warriors."
"The love and loyalty of our 9/11 responders knows no bounds," he added.
"We pledge to stand by the families of those affected today, and every day we will stand with you," Trump said.
The legislation authorizes money for the fund through 2092, essentially making it permanent. The signing followed weeks of intense lobbying from ailing 9/11 first responders — including one who died shortly after testifying before Congress last month.
In attendance were Rudy Giuliani, an informal Trump adviser who was the mayor of New York City during the attack and Rep. Peter King, R-N.Y.
Comedian Jon Stewart, one of the bill's most prominent advocates, was not in attendance for the signing, however.
During an emotional appearance before Congress last month, Stewart blasted lawmakers for requiring the actto be reauthorized, resulting in ailing first responders having to make repeated trips to the Capitol.
Last week the Senate passed the bill by a vote of 97-2. The legislation passed the House by a vote of 402-12 earlier this month.