Israeli army fires into Lebanon after military targets hit by missiles
Comments
By Paul Goldman and Lawahez Jabari and Yuliya Talmazan and Reuters with NBC News World News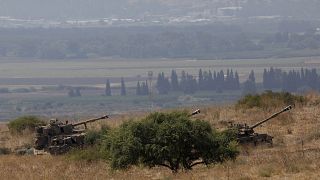 -
TEL AVIV — Israel's military said on Sunday it fired into southern Lebanon after a number of anti-tank missiles targeted an Israeli military base and army vehicles near the border village of Avivim.
There were no immediate reports of casualties, though the Israeli Defense Forces said a number of hits have been confirmed.
The Israeli army has also told residents within four kilometers of the Lebanese border to stay in their homes and open shelters.
Just hours earlier, the Lebanese military said an Israeli drone, which violated Lebanon's airspace, dropped incendiary material and sparked a fire in a pine forest by the border.
Israel's military said on Saturday that it had ordered extra forces to deploy near the border amid rising tensions with Hezbollah.
Paul Goldman reported from Tel Aviv, Lawahez Jabari from jerusalem and Yuliya Talmazan from London.