After a chaotic summer, 2020 fundamentals remain the same
Comments
By Chuck Todd and Mark Murray and Carrie Dann with NBC News Politics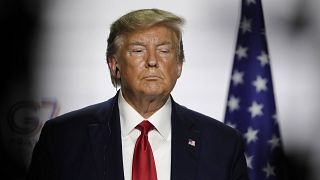 Copyright

Markus Schreiber AP

-
WASHINGTON — The summer felt chaotic, but not much has changed for 2020. The more things changed, the more they've stayed the same.
Just think about everything that's transpired this summer as we head into the Labor Day weekend.
The El Paso and Dayton shootings. Mueller's testimony. "Send her back." Trump's July 4 event. The continued trade war. The congressional GOP retirements. The two Democratic debates. Harris vs. Biden on race.
Despite it all, the overall political environment remains pretty much the same from when the summer began: President Trump's job rating is stuck in the low 40s — perilous territory for an incumbent president.
And Biden still leads the 2020 Democratic horserace.
Indeed, it's been one of the defining features of the Trump Era — so much noise, and so little movement.
But given that stability in a news environment that's been so unstable, let's also not lose sight of what actually has changed this summer:
Increasing fears of an economic downturn.
Elizabeth Warren's steady rise in the polls.
Credible or semi-credible primary challengers for Trump (especially if Mark Sanford runs).
A slightly wider Senate map for Democrats.
Oh, and the Democratic horserace is bound to change as the field gets smaller and smaller.
The thing is: We just don't know how the race will change.
Shakeup with the Iowa caucuses
Recognizing that caucuses limit voter participation, Iowa Democrats had proposed holding "virtual caucuses" for people who couldn't physically be present for the contest on February 3.
Think of it as an absentee/early voting system for the caucuses.
But it looks like that national Democrats are going to reject that virtual-caucus system.
NBC's Vaughn Hillyard, Priscilla Thompson and Maura Barrett report that the Democratic National Committee believes the technology isn't secure and will recommend scuttling the current setup, according to two sources familiar with the discussions.
Bottom line: The national party is concerned about the threat of these virtual caucuses being hacked.
Tweet of the day
On the campaign trail
Today: Bernie Sanders and Julian Castro stump in South Carolina… Beto O'Rourke is Virginia, including a town hall at Virginia Tech in Blacksburg… And Steve Bullock campaigns in Iowa.
Saturday: O'Rourke remains in Virginia… Bullock spends another day campaigning in Iowa… And Sanders and Castro, in Houston, Texas, attend the Islamic Society of North America Convention presidential forum.
Sunday: Bullock, Michael Bennet and Amy Klobuchar are in Iowa… And Sanders holds rallies in New Hampshire and Maine.
Labor Day: Bernie Sanders spends another day in both Maine and New Hampshire… Elizabeth Warren also is in the Granite State… And Pete Buttigieg, Bullock, Bennet and Klobuchar are in Iowa… And Cory Booker travels to Nevada.
Dispatches from NBC's embeds
Bernie Sanders held a climate change town hall in Myrtle Beach, S.C., where NBC's Gary Grumbach reports Sanders said he doesn't "support a military intervention" in Brazil to deal with President Bolsonaro's actions in the Amazon rainforest.
Sanders continued, "I may be doing a little bit of wishful thinking when I say this, but maybe just maybe if we make governments all over the world aware of the severity of the crisis, maybe just maybe then instead of spending a trillion and a half dollars every year on weapons of destruction, maybe we can pool our resources and fight our common enemy which is climate change."
Data Download: The number of the day is … 56 percent
56 percent.
That's the share of registered voters who say that climate change is an emergency, compared with 42 percent who do not, according to new polling data from Quinnipiac University.
Among Democrats, 84 percent call climate change an emergency. For independents, it's 63 percent. But among Republicans, 81 percent say it is not an emergency.
The Lid: Moneyball
Don't miss the pod from yesterday, when we took a look at what we know about Americans' views of what's next for the economy — and what that could mean for Trump.
Shameless plug: NBC's headed to the Texas Tribune Festival
For the second year in a row, NBC News and MSNBC will be headed to the Texas Tribune Festival, where the likes of Garrett Haake, Steve Kornacki, Chris Hayes, Katy Tur, Stephanie Ruhle and Lawrence O'Donnell will interview 2020 Dems and other prominent politicians.
ICYMI: News clips you shouldn't miss
Alabama Gov. Kay Ivey is apologizing for wearing blackface in college, but she's refusing to resign.
Trump's personal assistant has resigned after she reportedly shared personal information about Trump and his family at an off-the-record dinner with reporters.
Here's the Washington Post story on how Joe Biden has conflated several stories on the campaign trail about a reluctant soldier rewarded for valor.
The DOJ Inspector General says that James Comey violated policy, but DOJ won't prosecute him.
Trump Agenda: Lost in Space (Force)
Here's what Trump's moves yesterday for the U.S. Space Command actually mean.
Farmers are starting to get very antsyabout the consequences of Trump's trade war.
Senate Republicans are warning the Supreme Court against pressure from Democrats.
2020: Is the Warren lovefest over?
The lovefest may be overfor Elizabeth Warren.
The anger that animatedBernie Sanders' 2016 run isn't as compelling to his supporters anymore.
The Washington Post writesabout how Democratic candidates are trying to out-healthy each other.
Darrell Issa is back.
Kamala Harris is out of the running for a key progressive endorsement.
The New York Times looks at how policing in South Bend has overshadowed Pete Buttigieg's narrative about restoring the economy there.
POLITICO reports on how Julian Castro has struggled to rise to the top.