'Operation Yellowhammer': Leaked UK document warns of no-deal Brexit chaos
Comments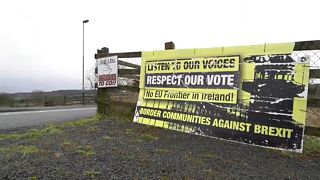 British ministers sought to play down the signficance of a leaked documents published in a Sunday newspaper warning of serious disruptions in the event that the UK leaves the European Union without a trade deal on 31 October.
The Sunday Times printed details of government memos that present an alarming picture of the consequences of "no-deal" Brexit.
Among the most serious: disruptions to the supply of drugs and medicine, a decrease in the availability of fresh food and even potential fresh water shortages due to possible interruptions of imported water treatment chemicals.
Although the scenarios have long been floated by academics and economists, they've been repeatedly dismissed as scaremongering by Brexit proponents.
Michael Gove, the minister in charge of no-deal preparations, insisted that the files represented a "worst case scenario".
But the documents on the government's preparations, codenamed "Operation Yellowhammer", are titled "planning assumptions", and mention a "base scenario", not a "worst case" one, according to The Sunday Times.
Gove said: "I think it's important that we look in context at the document that's appeared in The Sunday Times today. 'Operation Yellowhammer' is the name that the government has given to planning for absolutely the worst case, in the event of a no-deal Brexit and it's also important to recognise that this is an old document that since it was published and circulated, the government have taken significant additional steps to ensure that we are prepared to leave on October the 31st, deal or no deal."
Nick Thomas-Symonds, Labour's Shadow Security Minister, said the document "set out the stark reality of the consequences of a no-deal Brexit."
Prime Minister Boris Johnson has said he is ready to leave the EU regardless of whether he is able to renegotiate the Brexit deal struck with Brussels by his predecessor, Theresa May.
However, the threat of a hard border in Ireland highlighted in the document will focus minds ahead of talks between Johnson and European leaders, scheduled for Wednesday and Thursday.
Read more:
No-deal Brexit: everything you need to know
Brexit Guide: where are we now?
Want more news?