Watch again | WorldSkills Kazan 2019 opening ceremony
Comments
By Eugenia Bloom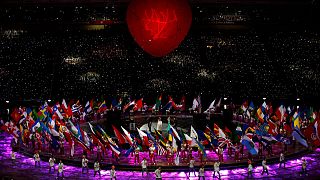 Kasan, a city in Russia will play host to the world competitions for vocational skills.
WorldSkills, which is taking place from August 22 -27, promotes the benefits of skilled trade professionals.
It will bring together more than 1,300 participants from 63 countries around the world.
The competitions will see contests take place in 56 skills areas, ranging from construction, information and communication technologies to creativity and design.
The lively opening ceremony took place in the Kazan Arena Stadium, on August 22. Watch it again in the video player, below.
The spectacular ceremony saw perform world-renowned professionals whose inventions have shaped the 21st century.
Robot Sophia, the world's only android with citizenship and a passport, was a special guest of the ceremony.
"Skills change lives and they can transform societies and economies, as well as bring prosperity and stability across the world," said Simon Bartley, WorldSkills president. "In the next few days, you will see what excellence can achieve."
Bartley added that participants bring a message of unity, as "they call out for a world that addresses their concerns" opening the way for green-collar jobs and equality.