Trump's message is what comes after the teleprompter speech
Comments
By Chuck Todd and Carrie Dann with NBC News Politics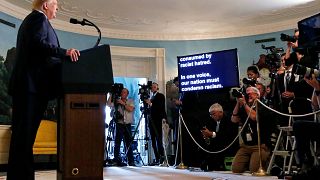 Copyright

Leah Millis Reuters

-
WASHINGTON — Yesterday, we wondered before President Trump's address to the nation how he would frame the weekend's mass shootings.
We asked if he would mention the El Paso shooter's specific targeting of Latinos (he did not), if he would use the phrase "white supremacy" (he did), if he would announce a trip to El Paso or Dayton (we learned late yesterday that he will visit both), and if he would expand on the background check proposal he floated earlier on Twitter (he didn't mention it at all).
Trump's calls for empathy and resolve weren't all that different from addresses he's made in the past after tragedies. But, in these situations, Trump also has a history of making off-the-cuff statements or tweets after the fact that have muddied or undermined his scripted calls for unity and healing.
So it's what comes next that will demonstrate whether this is a moment of any meaningful change, or a blip before we return to the status quo:
After Charlottesville
Trump's scripted response, August 14, 2017: "Racism is evil. And those who cause violence in its name are criminals and thugs, including the KKK, neo-Nazis, White supremacists, and other hate groups that are repugnant to everything we hold dear as Americans."
Trump Q&A, August 15, 2017: "You had some very bad people in that group, but you also had people that were very fine people, on both sides. You had people in that group … that were there to protest the taking down of, to them, a very, very important statue and the renaming of a park from Robert E. Lee to another name… I'm not talking about the neo-Nazis and the White nationalists, because they should be condemned totally — but you had many people in that group other than neo-Nazis and White nationalists. Okay? And the press has treated them absolutely unfairly."
After Parkland:
Trump's scripted response, February 15, 2018: "I want to speak now directly to America's children, especially those who feel lost, alone, confused or even scared: I want you to know that you are never alone and you never will be. You have people who care about you, who love you, and who will do anything at all to protect you. If you need help, turn to a teacher, a family member, a local police officer, or a faith leader. Answer hate with love; answer cruelty with kindness."
Trump tweet,February 17, 2018: "Very sad that the FBI missed all of the many signals sent out by the Florida school shooter. This is not acceptable. They are spending too much time trying to prove Russian collusion with the Trump campaign — there is no collusion. Get back to the basics and make us all proud!"
After the Pittsburgh synagogue shooting:
Trump's scripted response, October 27, 2018: "This evil, anti-Semitic attack is an assault on all of us. It's an assault on humanity. It will require all of us working together to extract the hateful poison of anti-Semitism from our world."
Trump Q&A, October 27, 2018: "If they had some kind of a protection inside the temple maybe it could have been a very much different situation. They didn't. And [the shooter] was able to do things that, unfortunately, he shouldn't have been able to do."
After the New York truck attack:
Trump's scripted response, November 1, 2017: "All of America is praying and grieving for the families who lost their precious loved ones. Horrible act. Our hearts break for them and we pledge to renew our resolve in their memory."
Trump tweet,November 1, 2017: "The terrorist came into our country through what is called the "Diversity Visa Lottery Program," a Chuck Schumer beauty. I want merit based."
After Orlando:
Trumptweet, June 12, 2016: "Appreciate the congrats for being right on radical Islamic terrorism, I don't want congrats, I want toughness & vigilance. We must be smart!
And that's not to mention comments criticized as being tone deaf in the wake of Hurricane Maria,Hurricane Harvey, and the Mandalay Bay mass shooting.
Yes, all eyes were on Trump's statement yesterday to see what kind of tone he would strike. But what matters more is what Trump does and says in the next few days.
Next time he has a rally, will he talk about El Paso or gun violence in front of that audience? And will he avoid his old rhetoric about immigrant "invaders" — or keep it up for the crowd?
And, until he can convey empathy and concern for national unity in an unscripted way, will he ever be able to get these moments right?
What we learned from last week's big fundraising data dump
Last week, a huge data filing by donation-processing company ActBlue gave us a granular view of the online fundraising by each of the 2020 Democratic presidential candidates.
The reason the data dump was a big deal? Campaigns only have to include details of donors who give more than $200 in their FEC fundraising reports, but ActBlue's data detailed every donation — no matter how small — between January 1 and June 30.
NBC's Ben Kamisar and Melissa Holzberg crunched the numbers. Here's some of what they learned:
Sanders remains the king of grassroots fundraising, bringing in $34 million through the ActBlue platform.
The top tier of candidates — Joe Biden, Bernie Sanders, Elizabeth Warren, Kamala Harris and Pete Buttigieg — are also raising the most in early primary states. Sanders is dominating fundraising in Iowa and New Hampshire, while Biden leads in Nevada. In South Carolina, Biden, Sanders and Buttigieg are all competing for the top spot.
Julian Castro got a BIG fundraising bump after the first Democratic debate, raising $84,000 on the night of his debate performance and nearly $330,000 the following day. That's compared to under $20,000 raised the day before the debate.
Kamala Harris also had a huge fundraising windfall after the first debate, bringing in $574,000 on the night she sparred with Joe Biden and $1.8 million the next day.
Trump administration labels China a currency manipulator
Per our colleagues at CNBC: "The U.S. Treasury Department on Monday designated China as currency manipulator, a historic move that no White House had exercised since the Clinton administration."
More: 'In recent days, China has taken concrete steps to devalue its currency, while maintaining substantial foreign exchange reserves despite active use of such tools in the past,' the Treasury Department added. 'The context of these actions and the implausibility of China's market stability rationale confirm that the purpose of China's currency devaluation is to gain unfair competitive advantage in international trade.'"
And here's what the Wall Street Journal editorial board writes in response this morning: "President Trump claims trade wars are easy to win, but that boast looks worse than ever amid the financial carnage from his latest threat of tariffs on Chinese goods. His trade war has now become a currency war, which raises the potential economic harm to another level."
More: "Mr. Trump is punishing China all right. He's also putting U.S. growth in jeopardy by unleashing trade and currency risks that undermine the benefits of his tax reform and deregulation. Sometimes trade wars end badly for everyone."
Data Download: The number of the day is… 767 points
767 points.
That was the drop in the Dow at the end of the day yesterday — a 2.9 percent dip and the worst day of 2019 for Wall Street.
The drop came after the weakening of Chinese yuan against the dollar, and against a backdrop of the president's threat last week to impose an additional 10 percent tariff on $300 billion in Chinese imports starting next month.
Tweet of the Day
2020 Vision: Previewing the MS-GOV primary race
If it's Tuesday ... voters are voting! Republicans could be headed for a primary runoff after today's three-way primary contest in the Mississippi gubernatorial race.
The GOP contest pits Lt. Gov. Tate Reeves against former state Supreme Court chief justice Bill Waller Jr. and state Rep Robert Foster. (Foster recently made headlines for refusing to allow a female reporter to accompany him on the campaign trail without a male colleague present.)
Reeves, who has outspent his opponents on TV by more than 3-1, has been considered the frontrunner throughout the race — but recent polling showed him potentially falling short of the 50 percent necessary to avoid a runoff, which would be held August 27.
The winner will likely face Democratic Attorney General Jim Hood in November. Hood faces seven comparatively unknown Democratic contenders in his primary today.
On the Campaign Trail Today
Joe Biden and his wife Jill have a fundraiser in Idaho… Bernie Sanders has a town hall and a rally in California… Cory Booker and Michael Bennet are both campaigning in South Carolina, while John Hickenlooper and John Delaney stump in Iowa.
Dispatches From NBC's Embeds
NBC's Amanda Golden flags that Sen. Kamala Harris' campaign is opening four field offices New Hampshire. They'll be located in Manchester, Nashua, Keene and Portsmouth. Harris' New Hampshire State Director Craig Brown says, "Our field offices will serve as central locations for campaign volunteers and supporters as they continue to discuss Kamala Harris's agenda focused on solutions that will have a direct and immediate impact on people's lives. We're excited to open these new hubs for all the organizing already happening across the Granite State."
Former Rep. John Delaney made remarks in Lamoni, Iowa last night where he was asked about running against "entitled dinosaurs." NBC's Priscilla Thompson reports his response: "I don't think anyone is entitled to the nomination in the Democratic Party, right. Because this is about our country, this is about everything we stand for. This is not about someone's career."
The Lid: Not just background noise
Don't miss the pod from yesterday, when we checked in on what the polling says about Americans' desire for stricter gun regulations.
ICYMI: News clips you shouldn't miss
Former president Barack Obama weighed in on the recent shootings — with what sounded a lot like a shot at Trump.
Mitch McConnell is ignoring calls for Congress to come back into session to address gun violence.
The man who mailed pipe bombs to critics of Donald Trump has been sentenced to 20 years in prison.
Gun laws in Texas are set to loosen up beginning September 1.
Alexandria Ocasio-Cortez is calling out a group of men in "Team Mitch" t-shirts after a photo surfaced of them holding and appearing to kiss and choke a cardboard cutout of her.
Trump Agenda: Tracking the Facebook ads
George P. Bush writes in a piece for The Atlantic: "White-Nationalist Terrorism Must Be Stopped."
Many folks on the ground in El Paso aren't happy with how the president framed his speech yesterday.
The Trump campaign's Facebook advertising has been heavily pushing the idea of an "invasion" at the southern border, per the New York Times.
Dan Balz in the Washington Post: "Trump says white supremacy and sinister ideologies 'must be defeated.' Will he lead the way?"
National security officials are calling for a realignment of priorities to focus more on far right violence.
2020: Dog days of summer
2020 contenders continued to blast Trump's El Paso response at a gathering of Latino activists.
The next six weeks could winnow the field — and put a lot of pressure on frontrunners in early states.
Pete Buttigieg lays out his "plan to combat the national threat posed by hate and the gun lobby."
Bill de Blasio says that Bernie Sanders would have beaten Donald Trump.
The fourth debate could end up with more participants than the third one, according to new DNC guidance.