South Korean nightclub loft collapse kills 2, injures at least 10 others
Comments
By Phil Helsel with NBC News World News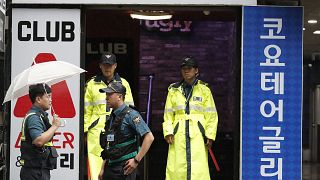 -
A loft inside a South Korean nightclub collapsed early Saturday, killing two people and injuring more than 10 others. Athletes from the U.S. men's and women's water polo teams were celebrating the women's world championship victory at the site when the structure fell, media in that country reported.
All of the U.S. water polo players who were at the club in Gwangju, are safe and accounted for, Chris Ramsey, CEO of USA Water Polo said.
"This is an awful tragedy," Ramsey said in a statement. "... Our hearts go out to the victims of the crash and their families."
The South Korean news agency Yonhap, citing fire officials, reported that the loft collapsed around 2:30 a.m. Saturday.
Authorities suspect it was caused because of too much weight on the structure, according to Yonhap.
Athletes competing in the FINA World Championships were said to be among the injured. Firefighters told the news agency that the injuries suffered to those who were hurt were not severe.
The club is next to the athletes' village, the Associated Press reported.
The U.S. Water Polo Women's National Team beat Spain 11-6 Friday to win the 2019 FINA world championship. The title is the third straight for the U.S. women's team, and its sixth overall championship, according to the team.
Gwangju is around 166 miles south of Seoul, the South Korean capital.