Coast Guard unloads 26,000 pounds of cocaine seized from Pacific
Comments
By Dennis Romero with NBC News U.S. News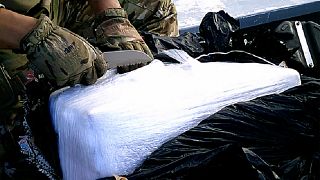 Copyright

U.S. Coast Guard

-
SAN DIEGO — The U.S. Coast Guard has seized $350 million in cocaine from the Pacific Ocean in recent weeks, the military said Friday.
On July 18, Coast Guard hauled in 2,300 pounds of cocaine from a "go fast" boat in the eastern Pacific in an operation captured on video.
The Coast Guard on Friday in San Diego staged the unloading of 26,000 pounds of seized cocaine. The midsummer haul is from six interdictions as well as fishing out floating bales of drugs, Coast Guard officials said.
The last two fiscal years have seen record drug seizures, mostly involving cocaine, on the high seas of the eastern Pacific, Coast Guard Lt. Commander Matthew Kroll said.
Despite high-profile seizures, including one this month that was captured in dramatic video of Guard Cutter Munro crew members stopping an alleged drug submarine, this year is not on pace to be a record haul, he said.
So far, the Coast Guard has seized 230,000 pounds of cocaine compared to the record-setting 460,000 pounds for all of the previous fiscal year, which ended Sept. 30, Kroll said.
"This is still a very high number," he said, "and we still have a few months to go."
Rear Admiral Peter Gautier told NBC San Diego that there's still plenty of work to do.
"There has been a spike in cocaine production in South America," he said. "Eighty percent of the cocaine arrives in America starts its journey in the eastern Pacific."
The speedboat stopped in the eastern Pacific on July 18 used three 300 horsepower engines, he said, making inderdiciton a challenge. In that case, crew members based on the circa-1968 cutter Steadfast made the bust with the help of a smaller "cutterboat."
But the Coast Guard has a new weapon, the Robert Ward, commissioned in March and said by the Coast Guard to be "fast response cutter."
One of the inderdictions that contributed to $350 million in drug seizures was made by the Ward, Coast Guard officials said in a statement. That was a first for such a Coast Guard vessel in the eastern Pacific, they said.
"The smuggling technology is getting more sophisticated every year," Kroll said. "They do what they can to avoid us. It's a constant cat-and-mouse game."