Trump, ahead of special counsel testimony: Why didn't Mueller investigate himself?
Comments
By Allan Smith with NBC News Politics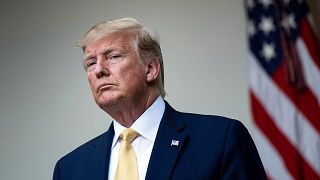 -
President Donald Trump fumed on Twitter soon before former special counsel Robert Mueller was set to testify before Congress over the news that a member of Mueller's team will sit alongside him during that testimony.
"It was NEVER agreed that Robert Mueller could use one of his many Democrat Never Trumper lawyers to sit next to him and help him with his answers," Trump wrote Wednesday morning. "This was specifically NOT agreed to, and I would NEVER have agreed to it. The Greatest Witch Hunt in U.S. history, by far!"
He also accused Democrats of trying to "illegally fabricate a crime" and pin it on a "very innocent President," calling the investigation "an illegal and treasonous attack on our Country," and again questioned Mueller's impartiality, adding "NO COLLUSION, NO OBSTRUCTION!"
On Tuesday night, Trump lamented news that the attorney would join Mueller, tweeting about how "very unfair" he thought it was.
"Just got back only to hear of a last minute change allowing a Never Trumper attorney to help Robert Mueller with his testimony before Congress tomorrow," Trump wrote also. "What a disgrace to our system. Never heard of this before. VERY UNFAIR, SHOULD NOT BE ALLOWED. A rigged Witch Hunt!"
Trump's annoyance followed reports that one of Mueller's longtime aides, Aaron Zebley, was set to appear alongside him during his Wednesday testimony to the House Judiciary and Intelligence Committees. As NBC News reported, Mueller's team made a last-minute request that Zebley be sworn in and testify with Mueller during the hearings, where the former special counsel was slated to speak about his more than 440-page report on Russian interference in the 2016 election, whether the Trump campaign and associates conspired with Russian officials, and if Trump obstructed the investigation.
In the first hearing, Zebley will sit alongside Mueller, but will not be sworn in, a Judiciary Committee spokesperson said. Mueller can confer with Zebley during questioning, but the attorney cannot answer questions.
Rep. Doug Collins of Georgia, ranking member of the Judiciary Committee, said Tuesday GOP members had "not gotten assurances from the House Democrats on the committee that he [Zebley] will not speak."
"He's not supposed to speak in that role to anyone on the committee or asked questions. And we're asking, and, frankly, that that be confirmed before the hearing. So we don't have to waste time with it tomorrow," Collins said.
Mueller spokesman Jim Popkin disputed the idea Zebley's presence amounted to an 11th-hour addition.
"Aaron Zebley was the Deputy Special Counsel and had day-to-day oversight of the investigations conducted by the Office," Popkin said in a statement Tuesday. "He will accompany Special Counsel Mueller to the Wednesday hearings, as was discussed with the committees more than a week ago."
Meanwhile, an Intelligence Committee aide told NBC News late Tuesday that Zebley will be sworn in for that hearing.
The president's public schedule is clear until around 4 p.m. ET Wednesday; he has said both that he has no plans to watch the former special counsel's testimony, and that he might watch "a little bit" of it.