Boris Johnson will be next U.K. prime minister
Comments
By Patrick Smith and Rachel Elbaum with NBC News World News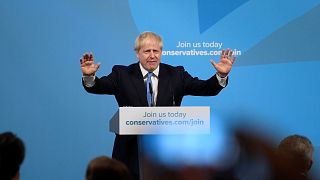 -
Copyright

Toby Melville
LONDON — Boris Johnson, the flamboyant pro-Brexitpolitician, will become the next prime minister of the United Kingdom.
Johnson was chosen as the leader of the ruling Conservative Party on Tuesday, and will become prime minister on Wednesday. After Prime Minister Theresa May formally resigns, Johnson will go to Buckingham Palace on Wednesday afternoon to meet the queen, who will invite him to form the next government.
Johnson is the former mayor of London and resigned as foreign minister a year ago over May's Brexit plans. He was the clear favorite to replace her, with polls putting him ahead by double digits.
He beat his rival, Foreign Secretary Jeremy Hunt, in an election that only Conservative lawmakers and party members were eligible to participate in. Johnson received 92,153 votes to Hunt's 46,656. Under the U.K.'s parliamentary system, a new prime minister can be appointed without the need for a general election.
"We know that we can do it and that the people of this country are trusting in us to do it," said Johnson, referring to Brexit in a speech at the conference center across from Parliament where the results were announced.
"We are going to unite this amazing country and we are going to take it forward," he said at the end of the speech.
May's decision to resign at the end of May came after months of chaos in Parliament due to Brexit, the U.K.'s decision to leave the European Union.
Johnson was one of the leading faces of the 2016 campaign for the U.K. to leave E.U., a measure which won a narrow victory in a referendum. May had voted to remain, though she embraced the result of the referendum and spent the majority of her time in office pursuing a withdrawal agreement with E.U.
However, hard-line supporters of leaving were always suspicious of May and three times voted down the deal she secured with the E.U.
News
Brexit is now by far the biggest item on Johnson's agenda. He has staked his reputation on making it happen on or before the next deadline of Oct. 31. E.U. leaders have said repeatedly that they won't reopen the agreement they made with May's government.
At one leadership campaign event, he promised to leave the E.U. at the end of October "do or die," and has said he would consider leaving without a withdrawal agreement.
This so-called "no-deal" scenario would leave the U.K. with no trade agreement, no customs arrangements and lacking shared standards in multiple areas — although it would allow the country to sign bilateral trade deals unconnected to the E.U.
Economists, business leaders and the British government's own experts have given stark warnings of the damage "no-deal" could do to jobs, investment and trade.
Many lawmakers in Johnson's own party are deeply skeptical about his leadership credentials and several current government ministers have said that they wouldn't serve in leadership positions under Johnson, due to his approach to Brexit.
News
He's also attracted a hefty dose of negative headlines even before assuming office.
An audio recording of him in a screaming argument with his girlfriend was leaked to the media in June, prompting some awkward questions on the campaign trail.
And he was heavily criticized from across the political spectrum for failing to confirm that he would retain Kim Darroch, the U.K.'s ambassador to the U.S., and the author of leaked diplomatic cables that were highly critical of President Donald Trump. Darroch resigned earlier this month.
Johnson also must govern with the threat of a general election hanging over his head, even though the next election isn't scheduled until 2022. His party holds only a slim majority in Parliament and any loss of support from his own side could mean that he suddenly needs to defend his agenda to the wider public.