O'Rourke's campaign is cratering. But he's got a plan to bring back 'Betomania.'
Comments
By Alex Seitz-Wald and Garrett Haake and Maura Barrett with NBC News Politics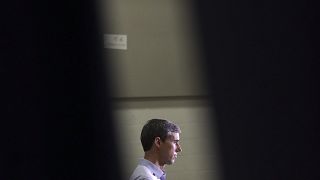 Copyright

Drew Angerer Getty Images

-
EL PASO, Texas — Beto O'Rourke has gone from phenom to front-runner to flailing in five months, and so he came home to this dusty border town last week to regroup, prepare for the next debate, and try to recast himself as the underdog in a Democratic presidential race in which many have already counted him out.
O'Rourke says that he doesn't plan to change his freewheeling style much, but that a top priority now is to raise the money to keep building his campaign organization so it will be ready to rebound.
"If you remember in Texas, it didn't happen overnight," O'Rourke told NBC News of his Senate race last year against Republican Sen. Ted Cruz. "It was a really long process that was against the odds, very often counted down and out."
He said of the current Democratic primary, "I think it's a really small minority of Americans who have made up their mind and maybe a relatively small minority of Americans who are paying close attention."
Dark horse is a mantel O'Rourke has worn well for most of his political career, from his early campaigns for City Council here and for Congress, both against entrenched incumbents in Democratic primaries, to his long shot bid against Cruz that made him a national star, even though he lost.
But the "Betomania" fever broke not too long after O'Rourke entered the 2020 presidential race.
The opening last week of his first field office in Texas, a state crucial to his path forward, was a homecoming of sorts.
"Given the moment that we're in, this would try the faith of any single one of us," he said of the state of the country, but perhaps also of his campaign.
Surrounded by family, friends and longtime supporters, O'Rourke stood next to — rather than on top of, as has been his attention-grabbing custom — a chair brought out for him and reminded those assembled that they had once helped him beata Border Patrol agent-turned congressman who was backed by Barack Obama and Bill Clinton.
"We took on the incumbent and we took on the odds and we did it together," he said. "A come-from-behind underdog victory, against the polls. Counted out, some counted us down, but we believed in each other and we made it happen."
It wasn't only a message about what he did then, but about what he needs to do now.
It's a long way from the heady days of March, when he was drawing bigger crowds than President Donald Trump at their dueling rallies on the border and making Iowa voters believe they were witnessing history.
But his early missteps — a widely mocked Vanity Fair cover, a joke about his wife staying home with the kids that he had to apologize for, a flip-flop on "Medicare for All," all of which happened on his first day in the race — all helped fuel a backlash.
Now, some of his supporters on Twitter can sound a bit like Trump fans, blaming the media for building O'Rourke up in 2018 only to tear him down in 2019. "We all know about the corporate media and they have their favorites, that's clear," Josh Simmons, a former field organizer on O'Rourke's Senate campaign, said.
O'Rourke's standing in the polls and fundraising have both plummeted. And his performance in the first Democratic debate last month was widely panned, when some wondered how he could take on Trump if he couldn't fight back against the little-known fellow Texan Julián Castro.
"I hope he doesn't run out of money and have to drop out," supporter Eugenio Morales said. "I hope he gets another magic moment."
Still, there are assets that stop some Democrats from declaring it's over.
"It's that energy that he has, that tenacity," Paul de La Peña, a local talk radio host in El Paso and O'Rourke friend, said.
But a comeback won't be easy.
"The problem with being the shiny new thing is that another shiny new thing will come along," said Grant Woodard, a veteran Iowa Democratic operative who is not aligned with any candidate. "In this primary, there's literally something for everybody. What is your message, other than I'm young, I'm fresh?"
Allies point to several factors they say are working in O'Rourke's favor: A work ethic at retail politicking second to none; raw political talent and a celebrity aura, though diminished; one of the biggest email fundraising lists in the field; and an ability to speak about race and immigration, thanks to his political upbringing in a city that is 80 percent Hispanic.
O'Rourke is still drawing relatively large crowds in Iowa -- some 125 at Sioux City and another 100-plus in Sioux Center this weekend -- and his campaign just opened 11 new field offices in the state, where he's well on his way to visiting all 99 counties.
"Obviously we are going to need more resources for the national effort, but Iowa is a top priority for this campaign," Norm Sterznbach, the O'Rourke campaign Iowa director, said.
The campaign also hopes to make a major play for delegate-rich Texas, which votes early in the primary process next year. The state hasn't been polled in over a month, but O'Rourke was in second place behind former Vice President Joe Biden in early June.
First, though, O'Rourke will need a much better performance in the second Democratic debate at the end of July on CNN, and he's been spending more time off the road to prep for it than he did before the last faceoff in late June.
"I know that Beto is excited about how he's going to handle the next debate," said Cindy Bernat, a top O'Rourke donor who co-hosted a fundraiser for the candidate in New York City in May and has known him since he was a child. "I think he needs to know how to manage all these people talking over everybody else."
O'Rourke prides himself on being accommodating to opponents, but some allies have been re-watching last year's debate in which he quoted Trump to slam Cruz as "lyin' Ted" and are hoping that he'll show that ferocity again — even though O'Rourke later said he took that attack against Cruz "a step too far."
And despite his sagging fortunes, O'Rourke and his well-regarded campaign manager, Jen O'Malley Dillon, continue to attract top-flight staffers, many of whom were courted by multiple campaigns, to El Paso, where they work out of a headquarters so close to the border they can walk to Mexico for dinner.
There are now at least 120 people on the payroll, according to recent campaign finance filings, including a robust policy team that is now regularly rolling out detailed plans and trying to combat the notion that there is little substance behind O'Rourke's smile that many have likened to the former Sen. Robert F. Kennedy's.
"We're building our team in El Paso slowly but surely ... We're going to grow, and our ability to fundraise is going to grow with it," O'Malley Dillon wrote in a recent memo to supporters.
They'll need the money. His campaign spent almost 150 percent of what it raised in the last quarter, the second-highest "burn rate" of any candidate in the field.
NBC News asked O'Rourke why voters should give him a second look when there are so many other candidates to choose from?
"That's going to be their decision," he said. "My choice is to make myself present in my communities, to go where they are. And not to write anybody off or count anybody down."