At least 1 dead, 15 injured in gas explosion at California home
Comments
By Doha Madani with NBC News U.S. News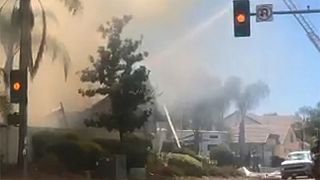 At least one person has died and 15 people were injured Monday after a contractor working at a California home accidentally damaged a natural gas line that triggered an explosion.
Southern California Gas Company confirmed that one of its employees died in the blast at the Murrieta home shortly after its crew members arrived. Murietta Fire and Rescue Deputy Chief David Lantzer said that 15 others were transported for medical evaluation.
"We are deeply saddened to learn of today's incident which took the life of one of our employees, injured firefighters, and impacted others," the company said in a statement. "Our employee was responding to reports of a damaged gas line at the home.
The company also said that one occupant of the home may be unaccounted for based on preliminary information.
Lantzer said at a press conference Monday that utility company crews arrived at the home at about 11:23 a.m. local time and the explosion occurred about 10 minutes past noon. SoCalGas said it was able to cut the gas flow to the house by 1 p.m.
There was no information on the severity of injuries.