French President Emmanuel Macron unveils France's nuclear-powered 'Barracuda' submarine
Comments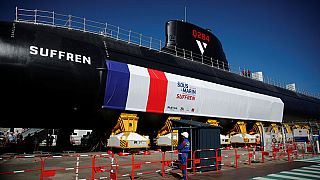 French President Emmanuel Macron unveiled France's latest nuclear-powered 'Barracuda' class submarine on Friday, a €9 billion stealth vessel programme Paris says is key to maintaining its naval presence for decades to come.
"France is a country of the longterm that knows that the biggest successes are those that come over time from experience of proven know-how over the years," Macron said as he unveiled the submarine.
Addressing those who worked on the submarines, Macron said: "they are not just submarines that you are building here. What you are building is really the independence of France. What you are building is our sovereignty."
The Suffren was presented in her dry dock in Cherbourg. Macron said the first French submarine had also been launched in Cherbourg in 1899.
The 99-metre long black steel submarine was partially covered in the colours of the French flag.
The French government has placed an order for six of the 5,000-tonne submarines made by Naval Group, in which defence company Thales has a 35 percent stake.
The Australian defence minister Linda Reynolds attended the ceremony unveiling the submarine. Australia recently ordered a non-nuclear attack class submarine fleet from the Naval Group.
The French project was first initiated in 1998.
The French navy expects to take delivery of the first, named "Suffren", for sea trials in 2020 and the remainder will enter service over the following decade, replacing France's ageing 'Ruby' class submarines.
"There is an imperative need for us to be present in conflict zones ... and to be able to pose a threat when necessary," General Francois Lecointre, Chief of the Defence Staff, told French media channel CNews on Thursday.
France expects the Barracuda class to remain in service until at least 2060.
More than 10,000 men and women worked on the complex project, the Naval Group said in a statement.