Smiling Trump tells Putin: 'Don't meddle in the election, please'
Comments
By Josh Lederman and Kristen Welker and Hans Nichols with NBC News Politics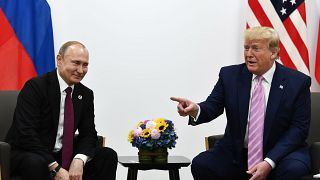 Copyright

Brendan Smialowski AFP/Getty Images

-
OSAKA, Japan — Under pressure to stand firm against Russian election meddling, President Donald Trump touted his "very, very good relationship" with President Vladimir Putin on Friday before telling Putin with a smile: "Don't meddle in the election, please."
Trump's meeting with Putin on the sidelines of the Group of 20 Summit in Japan was their first since an infamous summit last year in Helsinki, which left lawmakers of both parties aghast at the president's coziness with Putin and willingness to side with him against the U.S. intelligence community.
As the 2020 election approaches, Trump has been under increasing pressure publicly put Putin on notice that the U.S. won't tolerate election interference again.
As they sat together in Osaka, Trump didn't broach the topic, instead relishing in the attention of reporters and camera crews eagerly capturing every moment between the leaders of the two former Cold War foes.
"It's like the Academy Awards," Trump said to the Russian president. Then he called it a "great honor" to be with Putin, praising their "very, very good relationship" and predicting "a lot of very positive things" would result.
Over the din of reporters shouting and cameras clicking, Trump cocked his head when asked by NBC News whether he would tell Putin not to interfere in the vote next year.
"The answer to the question is, of course I will. 'Don't meddle in the election, please,'" Trump said. As Putin smiled broadly, Trump briefly raised his finger toward Putin before turning away and repeating: "Don't meddle in the election."
Trump's casual comments to Putin are unlikely to satisfy his critics, who have lambasted the president for repeatedly casting doubt on whether Russia interfered in 2016 despite the firm assessments of both the U.S. intelligence agencies and former Special Counsel Robert Mueller's investigation, which Trump continues to dismiss as a "witch hunt."
In recent weeks, Trump has renewed concerns about his seriousness in confronting Russia's efforts to interfere in U.S. democracy by saying he would listen to damaging information offered from foreign governments about one of his political opponents. Amid the ensuing uproar, Trump shifted position and argued that he would also tell the FBI.
Putin, for his part, said the two leaders had much to discuss in Osaka, noting that they had not seen each other since the Helsinki summit. Still, he said through a translator that their teams had been working together in the interim and said their session in Osaka would be "a great opportunity to follow up on that."