Tussle between Sea-Watch migrant rescue ship and Italian government continues
Comments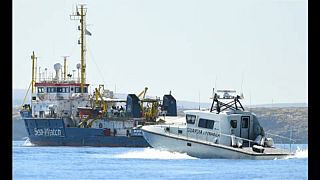 The tussle between the Sea-Watch 3 migrant rescue ship and the Italian government continues.
The Dutch-flagged rescue vessel has been in Italian territorial waters since Wednesday, as the coast guard has blocked its access to the port of the southern Italian island of Lampedusa in the Mediterranean. The ship's German captain, Carola Rackete, claimed that she had the right do do so under the Law of the Sea, while Rome is sticking to its stance and insists it has the right seek justice.
"This captain who took such a decision and for 10 days has kept people in these conditions acted in a manner that I think is unbelievably serious. It is something that not only worries the Italian government but also Italian justice," said Italian Prime Minister Giuseppe Conte, speaking in Osaka just before the G20 meeting.
The Sea-Watch 3, which is is owned by a German charity, has been in international waters since June 12 after it rescued 53 people from an inflatable boat about 47 nautical miles north of Libya, and had been waiting near Lampedusa for somewhere to dock.
Italian authorities allowed 10 people to disembark for medical reasons, but 42 people remain trapped on board. Authorities had denied the vessel entry into Italian waters based on an order from Interior Minister Matteo Salvini, which bans the docking of vessels that constitute a danger to security and public order.
According to a decree approved in June, the Italian Interior Ministry has the power to not only deny access to its territorial waters to vessels that it considers are a risk to security or public order, but to also fine them.
Salvini says the only acceptable solution is for the Balkan route to re-open, which as he said gives Italy the right to suspend the Schengen Treaty and put up a fence on its border with Slovenia to cut-off the migrant flows.