Johnson and Hunt to go head-to-head in Conservative leadership contest
Comments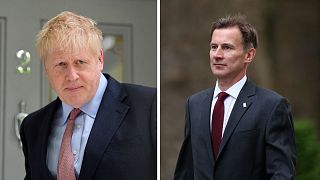 Boris Johnson and Jeremy Hunt are the final two Conservative MPs in the race to become the next leader of the party and UK prime minister.
Frontrunner Boris Johnson stormed ahead in first place with 160 votes out of 313, while Jeremy Hunt took back his lead finishing with 77 votes to Michael Gove's 75.
Michael Gove had edged ahead of Foreign Secretary Jeremy Hunt in the Conservative Party leadership race with 61 votes to 59 in the fourth round.
There was one spoilt ballot in the round.
The choice between the two MPs will now be put to members of the Conservative Party in a postal ballot. Whoever they choose will be the UK's next prime minister. The winner is expected to be announced in late July.
Johnson thanked his colleagues for their support and added they still had a long way to go.
The former foreign minister and London mayor has vowed to take the UK out of the EU by October 31 no matter the cost.
In the fourth round earlier today, interior minister Sajid Javid was eliminated from the contest, receiving just 34 ballots.
Javid, who is the first UK interior minister from an ethnic minority, later tweeted that he hoped "kids like him" had been inspired by his "ambition and conduct" during the race.
Outsider Rory Stewart was knocked out of the race to replace Theresa May as UK prime minister on Wednesday.
Stewart, who advocates a softer Brexit, received just 27 votes in the latest round of voting from Conservative MPs.
READ MORE:
TV debate: Johnson says Brexit extension would harm 'confidence in politics'
Brexit: should Boris Johnson and the Tories get real on no deal?
What would the contenders for UK prime minister do about Brexit?
Brext Guide: where are we now?
Want more news?