Boris Johnson odds-on to become UK PM as rivals target run-off
Comments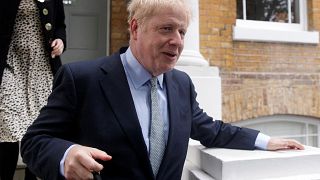 Copyright

REUTERS/Simon Dawson
There are only six runners left in the race to be the next Conservative Party leader and UK prime minister after health minister Matt Hancock withdrew from the race on Friday.
The health minister came sixth in the first ballot of party MPs, winning 20 votes. The youngest of all the candidates, he did not immediately endorse any former rival.
Boris Johnson topped the first round of voting on Thursday, emerging way ahead of the rest of the field.
The ex-foreign secretary and London mayor is now the clear favourite to enter 10 Downing Street. On Friday bookmakers shortened his odds to 2/7 to become Tory leader and UK prime minister.
He got 114 votes from Tory MPs while the three candidates with the fewest were eliminated: Esther McVey, Andrea Leadsom and Mark Harper.
That remaining candidates who will go through to the next round of voting next week are all men. They are Michael Gove, Jeremy Hunt, Sajid Javid, Boris Johnson, Dominic Raab and Rory Stewart.
Race to be the next Conservative Party leader: first round voting results
Results: Boris Johnson 114 votes; Jeremy Hunt 43; Michael Gove 30; Dominic Raab 27; Sajid Javid 23; Matt Hancock 20; Rory Stewart 19; Andrea Leadsom 11; Mark Harper 10; and Esther McVey 9.
Candidates needed at least 16 votes to get through to the second round.
The second round will take place on June 18 with additional ballots scheduled for June 19 and 20 until there are just two candidates left.
A postal ballot of the wider Conservative Party membership will then be held to pick a leader. A new prime minister should be chosen by the end of July.
READ: Who are the contenders for UK prime minister and what are their views on Brexit?
READ: Brexit: should Boris Johnson and the Tories get real on no deal?

Reactions from candidates
Rory Stewart thanked his colleagues for voting for him and said "we can win this" in a tweet.
Boris Johnson said he was "delighted to win the first ballot" but noted there was still "a long way to go".
Dominic Raab said he was "honoured" to have the support of his colleagues, adding he was the "change candidate who can be trusted to deliver Brexit by October, and has the vision and energy to take Britain forward."
Esther McVey who did not make it through to the second ballot published a thank you note on Twitter.
For more on each of the candidates click here.
READ: Theresa May: how Brexit defined then destroyed her premiership
READ: Brexit Guide: where are we now?
Want more news?