Family of transgender woman who died in U.S. custody plans to sue
Comments
By Ben Kesslen with NBC News U.S. News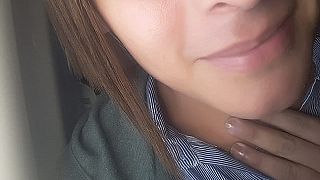 -
The family of a transgender woman who died after six weeks in U.S. custody filed a wrongful death and personal injury claim against Immigration and Customs Enforcement and the Department of Homeland Security as a precursor to a lawsuit, their lawyer said Wednesday.
Johana Medina Leon, 25, was seeking asylum in the U.S. on the grounds she faced threats of violence in her home country of El Salvador because she is transgender. She died June 1 in a hospital in El Paso, Texas, four days after she was found unconscious in ICE custody.
ICE released Medina Leon from custody the same day she was taken to the hospital, so they they will not have to conduct a review of her death.
But Medina Leon's mother said ICE violated her daughter's civil rights, denied her proper care and caused her preventable death.
The claim submitted Tuesday to the federal agencies is required before a lawsuit can be filed, lawyers for Medina Leon's family at the Dolan Law Firm in San Francisco said.
Family members said Medina Leon became ill while in ICE custody at the Otero County Processing Center in New Mexico and requested care that was repeatedly denied. In March, the ACLU and the Santa Fe Dreamers Project called out Otero for its "unconscionable conditions," particularly for LGBTQ immigrants.
ICE said in a statement Wednesday that it does not comment on pending litigation and stressed that its lack of comment "should not be construed as an agreement with or stipulation to any of the allegations."
Medina Leon was a nurse in El Salvador and requested IV fluids and a medical evaluation when she became ill, lawyers wrote in a letter to ICE and DHS provided to NBC News.
"When that request was denied, she requested water, sugar and salt to make her own solution," which was also denied, they wrote.
Medina Leon's family believes her transgender identity "played an active role in the denial of her rights and mistreatment," lawyers wrote, adding that she was held in an all-male facility despite identifying as a woman.
The family's lawyer, Chris Dolan, questioned the timing of Medina Leon's release from ICE custody.
"What they did is they transported her to a hospital to absolve themselves of responsibility," he said, adding that as Medina Leon grew more ill, she asked to be deported to seek medical attention elsewhere.
Dolan said Medina Leon did not break any laws coming to the U.S. to seek asylum and "this legal action is to get answers." He criticized a previous statement from ICEthat said immigrants are dying in detention because they are not being forthright about their medical conditions.
"To say that as a nurse she didn't disclose her medical condition is insane," he said.
Medina Leon's family is seeking $20 million in damages and access to all records pertaining to her detention.
The government has six months to respond to the claim, and if it chooses not to, Medina Leon's family is free to file a civil lawsuit in court, Dolan said.
Twenty-four people have died in ICE custody during the Trump administration, according to an NBC News analysis.
In November 2018, the Transgender Law Center and other groups announced they filed a wrongful death claim in New Mexico on behalf of Roxsana Hernandez, a transgender woman who died earlier that year in ICE Custody.