Albania's parliament calls president's decision to cancel municipal elections 'unconstitutional'
Comments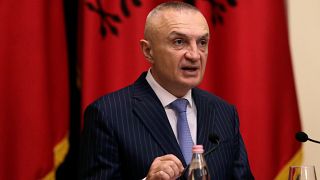 Albania's parliament passed a motion on Thursday criticising President Ilir Meta's decision to cancel the June 30th municipal elections as unconstitutional.
Meta cancelled the June 30 poll citing the need to reduce political tensions in the country.
The move comes after the country's opposition leader Lulzim Basha brought thousands of his supporters onto the streets of Tirana over the weekend in his push for the government of Prime Minister Edi Rama to quit.
Meta said he had acted because the circumstances did not provide "the necessary conditions for true, democratic, representative and all-inclusive elections," which had been scheduled for the end of this month.
He added that he had made the cancellation as the crisis "undermined every chance to start accession talks with the European Union".
The resolution called the president's decision "absolutely invalid, overcrossing the constitutional and legal competencies of the president." It was passed 100 votes for and seven against.
Albania's governing Socialist Party called for a no-confidence vote on Monday but it is unclear whether it will still be held.
Prime Minister Edi Rama insists the municipal elections will go ahead as scheduled, defying the president's orders. He said it was important to keep the elections as scheduled in order to prevent political "blackmail" from being used to force the calling of early parliamentary elections.
Rama said he considered Meta's act "brutal, transgressive, irresponsible and intolerable."
"Ilir Meta has lost his right to stay at the president's office," he said, adding: "There is nothing to shake us from holding the June 30 election."
A statement published on the president's website said the decision to cancel the elections was taken based on "fully constitutional arguments" and that it was "in effect and compulsory to be enforceable by all."
It added that the Constitutional Court was the only body able to review the legitimacy of the decision.
The statement noted that the president would choose a later date for citizens to vote "in a peaceful environment and in a free and fair order."
Opposition protesters are calling on Prime Minister Edi Rama to step down over accusations of corruption and of manipulating elections in 2017.
Want more news?