Hosts France celebrate winning start to Women's World Cup
Comments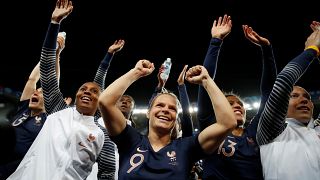 There were celebrations outside the Parc des Princes in Paris after hosts France got off to a winning start in their Women's World Cup campaign with a four nil victory over South Korea.
"There were four goals, that doesn't happen often so, superb," said one young fan.
"The atmosphere was great, we were singing, we were dancing, we were shouting. It was amazing," said another.
"It was magical, 45,000 people in the stadium Huge. Four goals is a dream, South Korea aren't that great, but we're proud of our team."
Organisers are hoping the month long tournament will be a breakthrough event in raising the profile of the women's game. 24 nations are competing in the finals.