President Donald Trump gears up attack on House Speaker Nancy Pelosi
Comments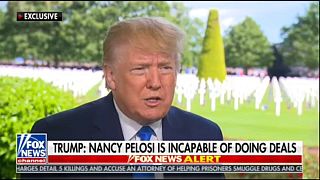 Just minutes after his return from commemorations to mark the 75th anniversary of the D-Day landings in Normandy, President Donald Trump geared up his attack on House Speaker Nancy Pelosi, who effectively heads the Democrats.
"I think she's a disgrace. I actually don't think she's a talented person. I've tried to be nice to her because I would have liked to have got some deals done. She's incapable of doing deals, shes' a nasty vindictive horrible person. The Mueller report came out, it was a disaster for them," President Trump told the Fox News network in an interview.
Nancy Pelosi has condemned Donald Trump for his behaviour towards Mexico and the threat of imposing tariffs to stop the flow of migrants from Mexico to the US.
"This is not a way to treat a friend. It's not a way to deal with immigration. It's not a way to meet the humanitarian needs at the border. It's a distraction from the Mueller report and it served its purpose, right," said Nancy Pelosi.
Donald Trump is threatening Mexico with a 5% tariff on Mexican products, with a view to putting pressure on it to impose stricter border checks.
American businessmen reacted immediately saying that something like that would seriously harm the US economy.