Pope Francis continues Balkan tour with a visit to North Macedonia
Comments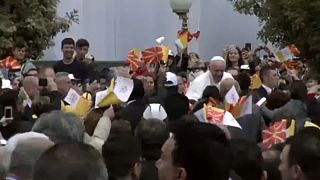 After visiting to Bulgaria, Pope Francis continued his three-day tour of the Balkans with a visit to North Macedonia. Apart from the Orthodox, Muslim and Protestant communities, some 20,000 Catholics live in the country. The former North Macedonian ambassador to the Vatican says the Pope's visit aims to support dialogue between Orthodox and Catholic Christians.
"He (Pope Francis) decided for this period of time to visit. He was yesterday in Bulgaria, today he is in our country and at the end of the month he will visit Romania. So those are the countries from Europe, but the majority have an Orthodox population. So he is trying to encourage the minority Catholic population in those countries, but also to send a message for ecumenism with the Orthodox churches," he said.
Analysts say that one of the purposes of the Pope's visit is to support the European course of North Macedonia, which hopes to become a full member of the European Union.
"European unity is the top priority of the Holy See and the Vatican administration. Because of the significance of the European continent, which is basically the root of Christianity and the Vatican and the Holy See supports Europe to keep their Christian roots and their Christian morality," he added.
During his visit to North Macedonia, Pope Francis prayed at the memorial of the country's most famous native daughter, Mother Teresa, who was born in Skopje. The Pope also met with Gombar Alojz, the nephew of Mother Teresa. Alojz presented Pope Francis with a painting and thanked him for visiting North Macedonia.
"The Pope had obviously heard of and wanted to see what the real North Macedonia is like. He knows there are a lot of religions and that people here live harmoniously. So Pope Francis is basically saying: It is a small country where people co-exist without problems," said Gombar Alojz.
"The visit of the Pope has been perceived as a recognition for the peaceful co-habitation among the different cultures and religions in North Macedonia, which the Pope defined as a bridge between the Eastern and Western civilisations," said Euronews' correspondent in Skopje.