EPP's Manfred Weber in Austria for rally ahead of European elections
Comments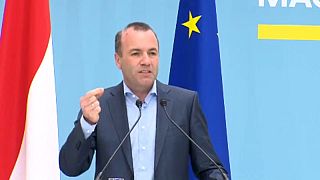 European People's Party leader Manfred Weber was in Austria in the run up to European parliamentary elections.
The German politician is attempting to bridge the gap between pro-Europeans and Eurosceptics within the European People's Party.
"I want to be President of the European Commission with one clear aim. To defend our Europe from nationalists and to lead it to a good future," Manfred Weber said.
From his side, Austrian Chancellor Sebastian Kurz stated: "We must prepare better for a crisis. We must change the rules to safeguard that Europe will have permanent rules that will allow us to be ready when needed."
Sebastian Kurz is calling for a renegotiation of the Treaty of the European Union, because, as he states, in view of the new challenges there is a need for ratification of the Lisbon Treaty.