Who is Manfred Weber, the man in line for the EU's top job? | Euronews Answers
Comments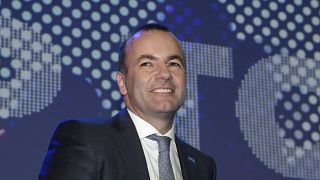 With the European elections just around the corner, some European leaders are starting to announce their candidacy to the EU's top job — president of the European Commission.
Here we give you a breakdown of who's announced their candidacy so far.
Manfred Weber from EPP
The European People's Party (EPP) has chosen Germany's Manfred Weber as its top candidate — or spitzenkandidat — to be the next president of the European Commission.
Weber, 46, beat former Finnish prime minister Alexander Stubb for the nomination to run for the EU's top post.
Incumbent Jean-Claude Juncker, also of the EPP, has said he will not seek a second term as European Commission president.
Weber defeated Stubb in front of the centre-right congress in Helsinki on Thursday, winning 492 of the 619 votes by party delegates.
He is now being considered as an early front-runner for the job.
But who is Weber, what are his political views and when are the European Parliament elections?
Who is Manfred Weber?
Weber is known as a moderate power broker in Brussels and began his political career at the age of 29, when he became Bavaria's youngest parliamentary member in 2003.
Weber was elected leader of the EPP in 2014. Aged 41, he was the youngest group leader in the European Parliament at the time.
Although Weber spends most of his working time in Brussels, he expressed in his latest campaign video the joy he feels in coming home to Bavaria.
"Coming home means for me, to be where I feel safe. Where I feel welcomed," he said.
Weber was born in Landshut, Bavaria, west Germany in 1972, and graduated with a degree in engineering from a Fachhochschule, or the University of Applied Sciences, in 1996.
What are his political views?
Weber is known for his hard stance on migration but has rallied against European anti-immigrant populists.
He referenced the need for "strict border control" in his speech on Thursday, while also saying that Europeans should feel at home and that it is the EU's responsibility to protect that feeling.
As European Commission president, he said he would push for a "binding rule of law mechanism" to "guarantee our principles in today's European Union".
Weber also cited the economic threat of China as being a major issue for the European Commission moving forward.
He expressed his opposition to Turkish membership of the European Union.
Weber has also been a known critic of EU dependency on Russian energy.
In a 2016 letter to the German economy minister and EU energy commissioner, Weber said the proposed Nord Stream 2 pipeline would undermine EU security goals and increase dependency on Gazprom, the Russian gas giant.
What is his relationship with Merkel like?
Weber is said to have modeled himself on Germany's pragmatic chancellor.
The centre-right lawmaker has been a key ally of Chancellor Angela Merkel, who has led Germany since 2005, but has recently seen her political strength weakened.
Merkel was present at the Helsinki congress, making a speech in support of Weber.
"During his wonderful speech Manfred Weber made a beautiful connection between his own homeland and the European project and I think that speech convinced many, many delegates," she said.
When are the European Parliament elections?
European Parliament elections are set to take place on May 23-26, 2019.
Voters across its 27 countries (after the UK leaves the bloc) will elect 705 members of the parliament.
An alliance for the centre-left is expected to be led by Dutch politician Franns Timmermans, who currently serves as vice-president to the European Commission.
When will other groups select their candidates?
Here are some upcoming scheduled congresses for alliances who will send candidates to battle for the EU's top job:
Party of European Socialists (PES): Congress to be held on December 7-8 in Lisbon, Portugal.

European Green Party: Congress to be held November 23-25 in Berlin, Germany.

Alliance of Liberals and Democrats for Europe (ALDE): Congress to begin from November 8-10 in Madrid, Spain.