Thousands take part in March of the Living from Auschwitz to Birkenau
Comments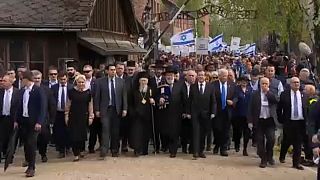 Thousands took part in the March of the Living along the three-kilometre route from Auschwitz to Birkenau in Poland to honour the victims of the Holocaust. Ecumenical Patriarch of Constantinople Bartholomew led the march along the same path that the Nazis had forced tens of thousands of Jews to walk to their deaths.
Many political and religious leaders were joined by more than 20,000 people from all over the world who took part in the annual march.
Partiarch Bartholomew was also present at the inauguration of an exhibition about Auschwitz victims from Greece. The exhibition was opened by Greece's Parliamentary Speaker Nikos Voutsis.
The Auschwitz Memorial Museum has granted Greece's parliament space in Block 12, where some of the exhibits will be housed.
The temporary exhibition will be open until the end of June. After that, exhibits will be transferred to Block 18 where the permanent Greek Exhibition on the Greek Auschwitz victims will be housed.