San Diego synagogue shooting leaves one dead, three injured
Comments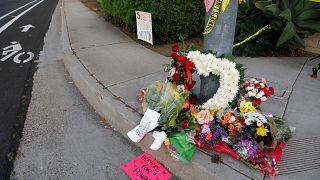 A gunman walked into a San Diego-area synagogue crowded with Sabbath worshippers and opened fire, killing one woman and wounding three others in a hate crime carried out on the last day of Passover, authorities said.
The suspect, who fled the scene but surrendered to police a short time later, was identified as John Earnest, 19, the apparent author of a "manifesto" who claimed to have set a nearby mosque on fire last month and professed drawing inspiration from the gunman who killed nearly 50 people at two mosques in New Zealand.
San Diego County Sheriff Bill Gore said police and FBI were investigating Earnest's "possible involvement" in an unsolved predawn arson attack on March 24 at the Islamic Center of Escondido, a town about 24 km north of the synagogue. No one was hurt at the mosque fire.
Gore said Earnest had "no prior criminal record."
A rambling, violently anti-Semitic, anti-Muslim screed written by an individual calling himself John Earnest was found posted to the online text-storage site Pastebin.com and the file-storage site Mediafire.com. Links to the content on both sources were posted on the Internet message board 8chan.
An assault rifle was used in the shooting, at the Congregation Chabad synagogue in Poway, California, about 37 km north of downtown San Diego.
"During the shooting, four individuals were wounded and transported to Palomar Hospital. Sadly one of the individuals succumbed to their wounds. The other three are in stable condition at Palomar," Gore told reporters.
A man who lives nearby, Christopher Folts, said on CNN he heard six to seven gunshots, then a man yelling, followed by six to seven more shots.
The Mayor of Poway Steve Vaus told MSNBC that members of the congregation engaged the gunman to prevent further violence.
Vaus said the attacker did not open fire on a random site but purposely selected the house of worship because it is a synagogue.
"I can tell you that it was a hate crime, and that will not stand. This community will come together," he said.
Local television channel KGTV 10News said the synagogue was hosting a holiday celebration beginning at 11 am and due to culminate in a final Passover meal at 7 pm. Authorities said about 100 people were inside the temple at the time.
It came six months to the day after 11 worshippers were killed and six others were wounded by a gunman who stormed a synagogue in Pittsburgh yelling, "All Jews must die."
President Donald Trump later said police had done "a fantastic job."
"My deepest sympathies go to the people that were affected, the families, their loved ones by the obviously looks right now based on my last conversations looks like a hate crime," he told reporters.
"We'll get to the bottom of it. It looks like the person was apprehended. No more danger."