Sri Lanka blasts: Intel on attacks not shared because of a 'breakdown in communication', says PM
Comments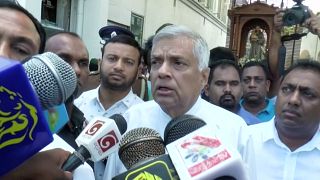 Sri Lankan Prime Minister Ranil Wickremesinghe said on Tuesday that intelligence warning of imminent attacks against churches was not transferred to him because of a "breakdown in communication" between his office and the president's.
Wickremesinghe added that the difference of opinion between him and the president, Maithripala Sirisena, have now been "thrashed out."
More than 320 people were killed and 500 were injured on Sunday when eight explosions targeting churches and hotels rocked the country.
READ MORE: Sri Lanka bombings: Who are the victims?
'Very, very sorry'
Health minister Rajitha Senaratne told reporters on Monday that authorities had been warned two weeks ago about a possible bombing and had the names of the perpetrators but that the information had not been shared with the Prime Minister.
The president is responsible for national security and intelligence but tensions between the two men have been particularly high since Sirisena dismissed Wickremesinghe in October before reinstating him following pressure from the Supreme Court.
READ MORE: Sri Lanka: What started the feud between the PM and president?
Senaratne said that authorities could have prevented the attacks, or at least reduced their number, had the information been shared.
"As a government, we have to say very, very sorry and we have to apologise to the families and their institutions about this incident," he said.
Parliament is to debate who was responsible for the information not reaching the prime minister on Wednesday, while the president has launched an inquiry into the matter, Senaratne added.
Who's responsible for the attacks?
The so-called Islamic State (IS) claimed responsibility for the coordinated bombings on Tuesday but did not back that up with any evidence.
The government has blamed the National Thowheed Jamath (NTJ), an Islamist movement, for the attacks but the prime minister said there may be "some links" with IS as the training and coordination displayed in the multi-layer attack showed there "seems to have been foreign involvement."
He added that the government's security agencies were monitoring Sri Lankans who had joined IS and returned home.
READ MORE: Watch: CCTV shows man with rucksack entering Sri Lankan church before explosion
Some suspects still on the run with explosives
He also said that suspects were still on the run and that some might have explosives when pressed on the matter by a journalist.
He added that the police had searched some "safehouses" but would not confirm where they were. "They won't be in the cities," the premier said.
Investigators were making "good progress" in identifying the victims, he said, and now religious and political leaders were asking for calm.
Watch: See PM Wickremesinghe's full press conference in the video player, above.
Attacks could have been motivated by Christchurch shootings
Defense Minister Ruwan Wijewardene told a parliament on Tuesday that the explosions were "retaliation" against the March 15 attack on two mosques in New Zealand but did not provide any evidence. Police have not confirmed it.
Read more: Sri Lanka bombings a 'retaliation' for the New Zealand mosque attacks, says minister