Sri Lanka bombings: Who are the victims?
Comments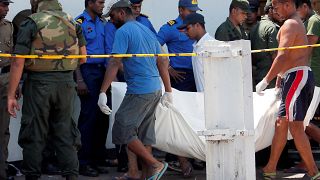 -
More than 359 people were killed and around 500 injured in multiple explosions targeting churches and hotels in Sri Lanka on Sunday.
Government officials said at least 34 of the victims were foreigners.
Here is what we know about them.
United Kingdom
Eight British nationals were killed in the attacks, according to the Sri Lankan High Commissioner to the UK.
Among them were three members of the same family.
Ben Nicholson lost his wife Anita and their two children, Alex, 14, and Annabel, 11. They were killed in the bombing of the restaurant at the Shangri-la Hotel in Colombo.
"Mercifully, all three of them died instantly and with no pain or suffering," said Ben in a statement.
"Anita was a wonderful, perfect wife and a brilliant, loving and inspirational mother to our two wonderful children.
"The holiday we had just enjoyed was a testament to Anita's enjoyment of travel and providing a rich and colourful life for our family, and especially our children.
"Alex and Annabel were the most amazing, intelligent, talented and thoughtful children and Anita and I were immensely proud of them both and looking forward to seeing them develop into adulthood.
"They shared with their mother the priceless ability to light up any room they entered and bring joy to the lives of all they came into contact with."
Britain's Foreign Office said in a statement to Euronews: "We can confirm that British nationals were among those killed in today's horrific attacks in Sri Lanka.
"Our staff are supporting the relatives of the victims and are continuing to work with the relevant authorities to obtain further information.
"We extend our deepest condolences to those who have lost loved ones and all those affected by this senseless tragedy."
Britain's High Commissioner to Sri Lanka, James Dauris, tweeted that he had visited "Brits in hospital who have been affected by today's senseless attacks".
Denmark
Denmark's richest man Anders Holch Povlsen and his wife lost three of their four children in the Easter Sunday attacks in Sri Lanka, a spokesman for Povlsen's fashion firm said.
Povlsen, 46, is the majority stakeholder in online retailer Asos and also holds a large stake in German online shopping site Zalando.
Netherlands
Dutch Foreign Minister Stef Blok said a Dutch citizen was also among the victims.
"Horrified by the terrible attacks on this Easter Sunday in Sri Lanka. Our thoughts are with the victims, including one Dutch national at this moment," Blok wrote on Twitter.
Switzerland
Two Swiss citizens were killed in the bomb attacks in Sri Lanka, a spokeswoman for Switzerland's federal department of foreign affairs (FDFA) said on Monday.
One of the individuals also held citizenship of a second country, the spokeswoman said. A third member of the family, who did not have Swiss citizenship, also died in the explosions, she added.
The Sri Lankan parents of a Swiss-Sri Lankan family also died in the attacks, she said.
"The FDFA is in contact with relatives and supports them with consular protection," the spokeswoman said.
She did not provide any more details about the victims.
Australia
Australian nationals were killed in the attacks, Prime Minister Scott Morrison confirmed.
They were members of the same family who were living in Sri Lanka, he said.
Turkey
Two Turkish engineers who were working in Sri Lanka were among the dead, according to state-owned Anadolu Agency.
Turkey's foreign minister, Mevlut Cavusoglu, confirmed the victims' names as Serhan Selcuk Narici and Yigit Ali Cavus in a tweet.
China
Chinese state newspaper People's Daily also announced that a Chinese national had been killed in the attacks. State news agency Xinhua also reported that four other Chinese nationals had been injured.
Read more: Scores dead as bombers target churches, hotels in Sri Lanka Easter attacks
Receive our newsletter directly on your smartphone