WikiLeaks co-founder Julian Assange arrested and dragged out of embassy after US extradition request
Comments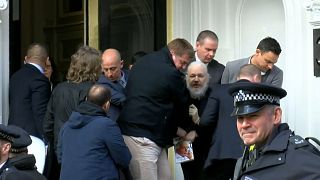 WikLeaks co-founder Julian Assange has been arrested at the Ecuadorian embassy in London, ending his seven-year asylum spell there.
He appeared on Thursday afternoon at Westminster Magistrates Court, where he was found guilty of skipping bail. He will be sentenced at a later date.
Assange was dragged out of the embassy — which you can watch in the video player above — on Wednesday after an extradition request by the US
Assange is wanted in the US over an investigation into WikiLeaks' release of classified documents concerning the wars in Afghanistan and Iraq.
The US Department of Justice (DOJ) said the charge related specifically over conspiracy to commit computer intrusion "by cracking a password" with US whistleblower Chelsea Manning, who served 7 years in prison for the huge data leak.
She was sent back to prison last month after refusing to testify against WikiLeaks.
Assange's conviction for breaching bail conditions in the UK dates back to 2012 — he was granted it during a case that would see him extradited to Sweden to face charges of rape and sexual assault.
To avoid extradition, Assange took up asylum in the Ecuadorian embassy, where he had been until today.
Swedish prosecutors eventually dropped the rape charge in 2017, however, the alleged victim indicated on Thursday a wish to reopen the case, following Assange's arrest.
Chief Prosecutor Ingrid Isgren said Sweden was watching the developments but was not yet able to "take a position" with the information available.
Why was Assange's asylum revoked?
Ecuadorian President Lenin Moreno said the decision to remove Assange's asylum was made over "repeated violations" to international conventions and "daily life protocols."
In a brief video statement, Moreno described Assange's behaviour as "discourteous and aggressive," claiming the 47-year-old had made "hostile and threatening declarations" against his country.
"The patience of Ecuador has reached its limit," Moreno said.
The Ecuadorian leader specifically cited WikiLeaks' release of a batch of Vatican documents earlier this year, before listing a number of activities at the embassy in London that he did not agree with.
Assange had installed electronic distortion equipment, blocked security cameras, accessed security files "without permission", and had "confronted and mistreated" embassy staff, he alleged.
Stressing the importance of human rights, Moreno requested the UK do not extradite Assange to a country where he could face the death penalty, such as the US.
Speculation over Assange losing asylum had been circulating for some time after recent tensions between himself and the Ecuadorian government grew increasingly strained.
Just last week, Ecuador released a statement saying it had made "significant expenditures" to fund Assange's seven-year occupancy at its embassy in London, but had been forced to "endure his rudeness".
Support for Assange
Former Ecuadorian president Rafael Correa, who granted Assange asylum in 2012, described his successor as a "great traitor" who had just committed a "crime that humanity will never forget."
It is "one of the most atrocious acts of servility, vileness and revenge," he said. "History will be implacable with those guilty of something so atrocious."
Upon confirming his arrest, WikiLeaks said "powerful actors" were involved in a "sophisticated effort to dehumanise, delegitimise and imprison" its founder.
"This man is a son, a father, a brother. He has won dozens of journalism awards," a brief statement said.
And "he's been nominated for the Nobel Peace Prize every year since 2010."
Human rights organisations have repeatedly called for Assange to be allowed to walk free, maintaining his asylum residency at the Ecuadorian embassy "arbitrarily deprived [him] of his freedom."
In December 2018, the United Nations said a bail violation could not justify his more than six years "confinement" at the embassy.
"It is time that Mr. Assange, who has already paid a high price for peacefully exercising his rights to freedom of opinion, expression and information, and to promote the right to truth in the public interest, recovers his freedom," the UN concluded.
'An attack on all of us'
Outside of the immediate legal battle, many journalists expressed concerns over what Assange's arrest meant for the state of the industry.
US whistleblower and former NSA security adviser Edward Snowden said it marked "a dark moment for press freedom."
He then pointed out that the government of former US president Barack Obama had refused to pursue the charge listed on Thursday, saying it "endangered journalism."
"The weakness of the US charge is shocking," Snowden said. "The allegation he tried (and failed?) to help crack a password during their world-famous reporting has been public for nearly a decade".
The Centre for Investigative Journalism said the arrest of Assange was "an attack on all of us", referring to its fellow journalists.
"Wikileaks material from Iraq, Afghanistan and elsewhere has become a unique, invaluable resource for investigative journalists and scholars around the world," it said in a statement.
"Its innovations – from cross-border, collaborative reporting to systems for secure, anonymous leaks – have been borrowed by almost every major news outlet in the world."
'Extensive spying operation'
The arrest came just a day after WikiLeaks held a press conference saying it found Assange had been a victim of an "extensive spying operation."
Individuals in Spain had demanded a €3 million ransom for a "massive trove of documents" accumulated on him, which included video and audio recordings inside the Ecuadorian embassy, and other documents.
Wikileaks editor-in-chief Kristinn Hrafnsson said he believed the documents were going to be handed over to US authorities to aid in an extradition case, but at the time he said he had no hard evidence to prove it.
READ MORE: WikiLeaks say founder Julian Assange is victim of 'extensive spying operation'