Watch again: May warns UK 'may never leave' EU if MPs reject her deal
Comments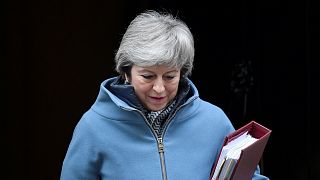 Prime Minister Theresa May has said the UK "may never leave" the EU if MPs reject her Brexit deal in parliament next week.
Delivering a speech in Grimsby on Friday, May presented her last-ditch attempt to get British politicians to back her withdrawal agreement.
"The only certainty would be ongoing uncertainty," May said.
"We may never leave at all," she added.
MPs are due next week to take part in a "meaningful vote" on the prime minister's Brexit deal, and, if rejected, would lead to two more votes held on consecutive days.
For the second vote, MPs would be asked whether they believe the UK should leave the EU without a deal. If this is also rejected, MPs will then vote on whether the UK should seek an extension of Article 50.
May has previously warned that an extension to Article 50 would a one-off, and would only be short term, leaving the UK at a "cliff-edge."
Any delay could lead to results the British public did not vote for, May added on Friday, including a second referendum.
"If we go down that road," she said, it would be "a political failure."
Touching on the contentious issue of the Irish backstop, May maintained that it was an "insurance policy," and one "no side wants to use."
READ MORE: What do the looming Brexit votes in the UK parliament mean?
While May's speech focused on gathering support for her deal, it was a brief interaction with a reporter afterwards that gained a round of applause.
"Only one question from a woman reporter on International Women's Day," one journalist pointed out as May stepped off the stand. "It's a pretty poor show, isn't it?"
"You had all the answers from a woman prime minister," May quipped, prompting laughter and applause.