Unmarried winners of the 'Wife Carrying Championship' set to make it official
Comments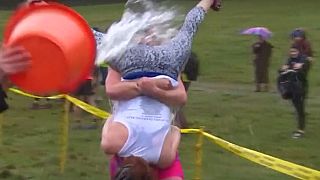 The unmarried winners of Britain's 'Wife Carrying Championships' are set to make their relationship official after this weekend's victory.
Shortly after defending their title for a second year, Chris Hepworth found the timing perfect to take his relationship with girlfriend Tanisha Prince to the next stage by surprising Prince with a marriage proposal.
The annual competition sees husbands carry their wives across a 380-metre course complete with obstacles.
Hepworth and Prince plan to continue their winning streak as newlyweds at the upcoming World Championships in Finland.