Watch again: The latest tech at the Mobile World Congress in Barcelona
Comments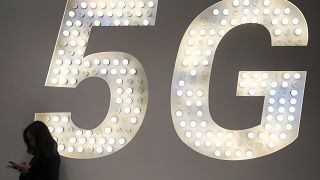 Euronews' Jeremy Wilks and Emma Beswick take a tour of the Mobile World Congress in Barcelona.
Beswick said she was impressed with Microsoft's HoloLens 2. The new augmented reality headset conquered her heart with a hologramme of a bird that came to sit on her hand. 
Beswick and Wilks also discussed the merits of bendy mobile phones as they were strolling through the stands. 
The Mobile World Congress is the world's largest mobile phone trade show. It intends to celebrate the current state of mobile and offer a glimpse into the future of mobile technologies. 
This year, the event was dominated by the security of next-generation 5G networks with conflicting views on the risks of moving to the new technology being debated on stage and in backroom meetings.