Northern Irish bank to release polymer, vertically-designed bank notes
Comments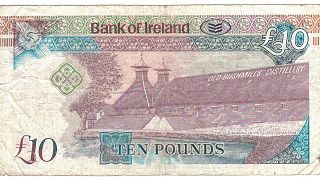 Copyright

Flickr/CC/The.Comedian
Northern Ireland's Ulster Bank has revealed the design for its new £5 and £10 notes which will be made on polymer and feature a vertical design to make it easier to identify counterfeits.
The notes will go into circulation on February 27.
Polymer notes — which are already used in the rest of the UK — last 2.5 times longer than paper and are better to prevent fraud. The new notes includes security features like a logo of Ulster bank in colour-shifting ink and an emboss.
The vertical designs will, however, be a first for the UK and are based on theme of 'living nature': on the £5 notes will feature images of Strangford Lough and Brent Geese, while the £10 notes will have Lough Erne, the Irish hare and Guelder rose shrubs on them.
In a statement, Richard Donnan, head of Ulster Bank, Northern Ireland said: "We're really proud to be doing something different with our new vertical banknotes."
"The designs are made by people of Northern Ireland for people of Northern Ireland and they are an opportunity to show the creativity and talent of local people," he added.
The new notes will be in circulation from Wednesday 27 February onwards, but this doesn't mean their paper equivalent will immediately disappear: they will be taken out of circulation in the coming months.