Maduro will close Venezuela's border with Brazil, considering closing Colombian border
Comments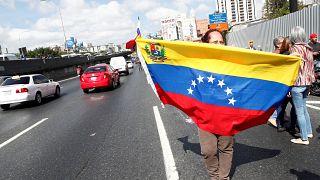 Copyright

REUTERS/Carlos Jasso
Venezuelan President Nicolas Maduro has announced he will close the border with Brazil and is considering closing the border with Colombia, ahead of opposition plans to bring in humanitarian aid despite his objection.
Maduro said on TV that the stockpiling of aid for Venezuela in the Colombian border town of Cucuta was a "provocation" and denounced the opposition's plans as a cheap show to undermine his government.
After the Brazilian government pledged to also send aid in, Maduro declared that the Venezuelan government would close the border with Brazil on Thursday night.
Maduro's decision follows the action taken by opposition leader Juan Guaido in defiance of Maduro. Guaido has left Caracas with some 80 MPs to go on a 800-km journey to the Colombian border, where they hope to receive food and medicine to alleviate shortages.
Maduro's beleaguered government denies that there is an economic crisis in Venezuela.
Guaido is recognized by dozens of countries as the legitimate Venezuelan head of state and has pledged to bring in the humanitarian aid already piling up in warehouses on the Colombian side of the border.
As Guaido's convoy left Caracas, crowds waved flags in support alongside a main highway out of the capital.