Europe briefing: Labour split, Poland-Israel spat, and Venezuela denies MEPs entry
Comments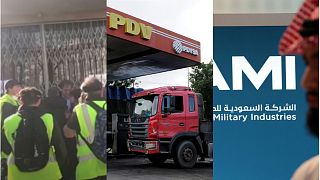 -
1) Seven MPs resign from Labour party over Brexit and antisemitism
A group of seven MPs resigned from the UK's Labour party on Monday morning amid recent criticism of handlings of Brexit and anti-Semitic sentiments within the party. The group of seven MPs said they intended to sit as independent MPs. Labour leader Jeremy Corbyn said he was disappointed in their decision to leave the party.
2) Venezuela denies entry to European MEPs
Venezuela denied a group of MEPs entry into the country on Sunday, claiming they had "conspiratorial motives" for their visit to Caracas. The four MEPs detained where flying into the Venezuelan capital to meet with opposition leader Juan Guaido.
3) Poland summons Israeli ambassador to clarify Netanyahu comments on Poles in Holocaust
Poland summoned Israel's ambassador on Friday to explain Benjamin Netanyahu's alleged comments on Polish complicity in the Nazi Holocaust. A spokesman for the Israeli prime minister said he had been misquoted by the Jerusalem Post, which later issued a corrected story.
4) Spanish warship ordered ships to leave British waters near Gibraltar
A Spanish ship tried to order commercial vessels to leave British waters near Gibraltar but was challenged by the British navy and sailed away. The incident was called "foolish" by a spokesman for Gibraltar's government.
5) Facebook called 'digital gangster' by UK report on fake news
A report by a digital, culture, media and sport select committee following an 18-month investigation into disinformation and fake news found that Facebook had purposefully obstructed its inquiry and failed to tackle attempts by Russia to manipulate elections. The conclusion of the report was that social media companies pose unique problems that require a new type of regulation.