Venezuela denies entry to European MEPs
Comments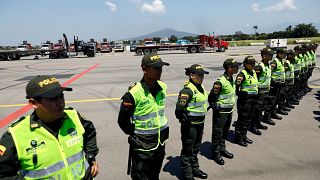 Copyright

REUTERS/Edgard Garrido
Venezuela denied a group of MEPs entry into the country on Sunday, claiming they had "conspiratorial motives" for their visit to Caracas.
The four MEPs detained where flying into the Venezuelan capital to meet with opposition leader Juan Guaido.
In a video circulating on social media and retweeted by Guaido, one of them is heard saying that their passports had been retained and the reason for their expulsion had not been communicated.
The four deputies belong to the European People's Party group and include Esteban González Pons, the spokesperson for the Spanish People's Party in the European Parliament, Esther de Lange, José Ignacio Salafranca Sánchez-Neyra, Gabriel Mato Adrover, and Juan Salafranca.
Venezuelan Foreign Minister Jorge Arreaza said on Twitter that the European lawmakers had been told several days ago they wouldn't be allowed into Venezuela.
Esteban González Pons, who is seen speaking in the video, tweeted that the MEPs were actually informed during a stopover en route to Venezuela that they would either be "retained or expelled," despite having an invitation from the National Assembly.
Before knowing his fate, the Spanish MEP vowed that an expulsion would lead to the EU withdrawing from Venezuela's contact group, an international group created with the hope of aiding a peaceful leadership transition in the country.
"Attention, our passports have been taken from us and they are expelling us from Venezuela," he tweeted after landing in Caracas.
"They are treating us badly and the only explanation they give is that Maduro does not want us here."
Guaido, whom on Saturday gave Venezuelan authorities a week to allow international humanitarian aid to enter the country, said he would "exert all the necessary pressure to achieve the cessation of usurpation."
READ MORE: Venezuela's self-declared president mobilises volunteers to fetch US humanitarian aid