Watch again: Seven MPs resign from Labour party over Brexit and antisemitism
Comments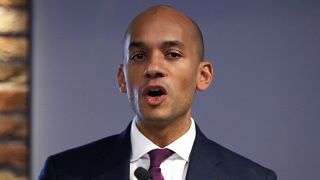 Copyright

REUTERS/Simon Dawson
A group of seven MPs resigned from the UK's Labour party on Monday morning amid recent criticism of handlings of Brexit and anti-Semitic sentiments within the party.
The group of MPs who have left include Chuka Umunna, Luciana Berger, Chris Leslie, Angela Smith, Mike Gapes, Gavin Shuker and Ann Coffey.
MP Luciana Berger said she could not remain in a party, which was "institutionally anti-semitic," adding she was leaving behind a culture of "bullying" and "bigotry". 
"The Labour party that we joined that we campaigned for and believed in is no longer today's Labour Party. We did everything we could to save it, but it has now been hijacked by the machine politics of the hard left," former Labour MP Chris Leslie told a news conference.
"Evidence of Labour's betrayal on Europe is now visible for all to see. Offering to actually enable this government's Brexit, constantly holding back from allowing the public a final say."
Leslie also a former Labour MP said it would be irresponsible to allow opposition leader Jeremy Corbyn to become prime minister. 
In an early move, Labour MP Michael Dugher announced his party resignation over the weekend, saying it was due to the "party's repeated failure to tackle anti-Semitism."
Writing in The Sun on Sunday, Dugher added: "The Labour Party I joined was a proud anti-racist party. Not so today."
"Today, under [Corbyn's] leadership, anti-Semites in the Labour Party are repeatedly let off with a rap on the knuckles, rather than being booted out for good."
The group of seven MPs said they intended to sit as independent MPs.
Conservative MP Jacob Rees Mogg said the split showed "deep divisions within the Labour Party".
"I think it's more profound than Brexit, I think that Jeremy Corbyn is a representative of the hard left and that people on the moderate wing of the Labour Party find that impossible to live with, so it's not surprising that it's happened but the lesson of the SDP (Social Democratic Party) is that these sorts of splits don't work."
Labour leader Jeremy Corbyn said he was disappointed in their decision to leave the party.