Indonesian police apologises after using snake to extract confession from suspect
Comments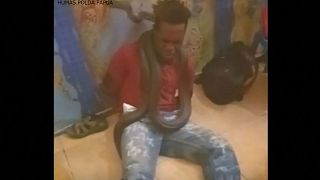 Copyright

REUTERS AND HUMAS POLDA PAPUA HANDOUT
Indonesian police apologised after using a live snake to interrogate a suspect in the easternmost province of Papua.
A video circulating online shows officers using a snake draped around a man's neck to persuade him to confess to his crime.
The man is seen sitting against a wall with his hands tied being his back yelling in distress as officers push the snake against his face.
The man was being questioned about stolen mobile phones. He's asked by the officer "how many times have you stolen mobile phones" to which he responds "only two times," reported Reuters.
In the video, a voice is heard ordering the man to open his eyes and then threatens to put the snake in the man's mouth and under his trousers.
Jayawijaya's police officer in Papua, Tonny Ananda Swadaya, apologised for the incident in a statement, in which he said that the police officer was not "professional in doing his job,". He added that the officers acted on their own initiative to get a confession and that the snake used was non-venomous.
"We have taken stern action against the personnel," he said, adding the man had not been physically attacked by the officers.
Papua's police spokesman, Ahmad Musthofa Kamal, said the incident was being investigated by the internal affairs unit and that actions would be taken if they found violations to the code of conduct.
According to Veronica Korman, a human rights lawyer specialising in Papua, this is not the first time a snake is used as an intimidation tactic.
Koman told Reuters a snake had also been used in an interrogation of one of her clients, whom she said was a pro-independence activist.