Thousands of 'foulards rouges' protest against the gilets jaunes in Paris
Comments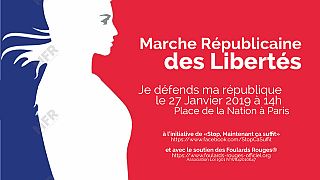 -
Copyright

Facebook/mouvementfoulardsrouges
Pro-Emmanuel Macron or anti-gilets jaunes (yellow vests)? Protesters took part in a march in response to the French gilets jaunes movement held in Paris on Sunday. They were over 10,000, according to the authorities.
Dubbed the "Republican march for the liberties", it brought together three groups that have since December voiced their opposition to the lasting social movement: the 'foulards rouges', the 'gilets bleus' and the collective "Stop, maintenant ca suffit" ("Stop, that's enough now").
"The foulards rouges are only asking for one thing", their Facebook page read, "the restoration of public order and individual liberties. (...) Life must start again in our country, with serenity and respect." The foulards rouges estimate that a "silent majority" in France is fed up with the movement.
"The gilets jaunes protests must stop," the foulards rouges spokesperson, Philippe Lhoste, told the Parisien newspaper. He denied being "remote-controlled" by president Macron's party La Republique en Marche (LREM). Instead, he said his group wanted "to reunite all the people who are fed up with this violence."
"I have nothing against the gilets jaunes, but I have something against the gilets jaunes spirit; the violence, the blockades at roundabouts, the opposition to the government," Lenny, 22, a student supporting Macron's party from the Yvelines, told the AFP. "There is a risk for our institutions when some people get their voice heard and the silent majority doesn't," added Jean-Pierre, 66, a manager from Paris. "The gilets jaunes represent a minority, and the majority often remains quiet, so sometimes it is necessary to protest."
But this "Republican march" was seen as an inconvenience for the government, whose "great national debate" inititave is trying to quell the gilets jaunes, ministers told French media.
"I understand that some French people want to attend. But it's not the role of En Marche to call to protest. We must not play one side against the other," said LREM leader Stanislas Guerini.
For this reason, no minister from the French government joined the march. Despite having voiced support for the "foulards rouges", the Education minister Jean-Michel Blanquer decided not to attend.
The march started on Sunday at 2 PM on Paris' Place de la Nation and head to Place de la Bastille.